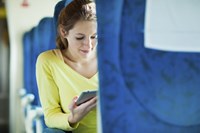 The U.S. Department of Transportation's Federal Transit Administration (FTA) today announced selections for Rides to Wellness Demonstration and Innovative Coordinated Access and Mobility Grants, which will help connect people to much-needed healthcare services through improved access to public transportation. Grants to 19 projects in 16 states will build partnerships between health, transportation and other service providers to address the problem of how to get people without vehicles to doctors and wellness appointments to help them maintain good health.
"People with limited access to reliable, safe transportation often miss their medical appointments, sometimes with dire consequences," said U.S. Transportation Secretary Anthony Foxx. "These grants identify dozens of creative ways to address these problems, providing a lifeline to people who otherwise might skip healthcare visits. We are bridging that health care gap by improving mobility for those with low incomes, older adults, and people with disabilities."
The grants are part of FTA's Rides to Wellness Initiative, which emphasizes public transportation as a strategy for people to access non-emergency healthcare, resulting in better health, fewer hospital visits and lower costs. The initiative focuses on improving the health of those with chronic conditions and ensuring that at-risk populations can get to wellness appointments, healthy food, and community services.
"At FTA, we are pleased to address the needs of some of our nation's more vulnerable residents by investing in projects that will help improve their health through easier access to public transit," said FTA Acting Administrator Carolyn Flowers. "These grants will help connect transit riders to healthcare services in new and creative ways."
FTA Acting Administrator Flowers announced the grants today in Los Angeles at the American Public Transportation Association (APTA) Annual Meeting, which is attended by numerous public transportation providers and stakeholders from across the country.
Many of the projects selected to receive funding introduce technology to forge new connections, while others focus on teaching patients and caregivers how to access and understand transit systems.
Among the projects selected to receive 2016 Rides to Wellness funding:
The Flint Mass Transportation Authority in Michigan will receive approximately $310,000 to develop a mobility management program that will coordinate non-emergency medical transportation and trip planning to deliver primary and urgent care for families, older adults and people with disabilities throughout Flint.
The Jacksonville Transportation Authority in Florida will receive approximately $400,000 to develop a software interface connecting medical scheduling programs and transit schedules to generate transit travel times and costs for receptionists and patients as they make appointments. The database has the potential to link a large number of healthcare providers to mobility management nationally.
The Ohio Department of Transportation will receive approximately $133,000 to fund the Mommy and Me Ride for Free program, which improves coordination and access to healthcare for pregnant women and women with infants in Northwest Ohio. By better connecting to the TARPS and TARTA transit systems, the project will improve health for mothers and babies.
The Maryland Transit Administration will receive approximately $103,000 to build upon a mobility management program that addresses barriers for low-income individuals in Allegany County in western Maryland who lack reliable access to transportation to healthcare. The program, which will be updated with transportation coordination software, provides transportation to and from non-emergency medical appointments.
Demand for FTA's Rides to Wellness grants exceeded available funds, as FTA received 78 applications totaling $28 million from 34 states. Project proposals were evaluated based on criteria outlined in the Notice of Funding Opportunity, with priority given to projects that outlined solutions that support the goals of Rides to Wellness, which include increased access to care, improved health outcomes and lower healthcare costs.
The Fixing America's Surface Transportation (FAST) Act, passed by Congress and signed into law by President Obama in December 2015, authorized $2 million for a pilot program for innovative coordinated access and mobility. Additionally, FTA used funds from its research, development and demonstration program, which are also available for these purposes.
About The US Department of Transportation
The mission of the Department is to serve the United States by ensuring a fast, safe, efficient, accessible and convenient transportation system that meets our vital national interests and enhances the quality of life of the American people, today and into the future.