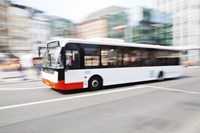 The U.S. Department of Transportation's Federal Transit Administration (FTA) today announced a Final Rule that will improve the process for ensuring the safety and reliability of new transit buses funded with FTA dollars. The new rule will establish a set of minimum performance standards, a standardized scoring system, and a pass-fail threshold that will better inform local transit agencies as they evaluate and purchase buses for use in their communities.
"Throughout our nation, millions of Americans rely on transit buses every day, and they expect to ride in safe, reliable vehicles that meet or exceed federal requirements," said U.S. Transportation Secretary Anthony Foxx. "This rule will help local transit agencies put well-tested, high-quality vehicles on the road, while streamlining the testing process."
The new bus testing rule will require newly procured buses to meet minimum thresholds in key areas such as safety, reliability, and performance. Existing procedures used by the FTA Bus Testing Facility will largely remain intact, but data generated will be used to apply a new 100-point scoring system to tested buses, making it easier to compare similarly sized bus models from different manufacturers.
Importantly, for the first time, bus models that fail to meet one or more minimum performance standards will "fail" their test and thus be ineligible for purchase with FTA funds until the failures are resolved. FTA will be able to use this authority to make sure defects are fixed before vehicles are allowed to go into service.
"FTA is proud to support communities seeking to improve their bus transit service – a lifeline for so many to access jobs and opportunities," said FTA Acting Administrator Carolyn Flowers. "Ensuring that unsafe buses never reach service protects those communities and bus passengers, and demonstrates FTA's continued commitment to making safety its number one priority."
The Final Rule follows the Notice of Proposed Rulemaking that FTA issued in June 2015. FTA conducted extensive outreach to partners across the transit industry, including transit vehicle manufacturers, component suppliers, public transit agencies, and state departments of transportation. Comments and feedback from this outreach are reflected in the Final Rule.
Congress directed FTA to make updates to the Bus Testing Program in the Moving Ahead for Progress in the 21st Century Act (MAP-21). Congress first authorized the Bus Testing Program in 1987 to ensure that federal funds – which can cover up to 80% of the cost of purchasing transit buses through various grant programs – are used effectively and efficiently.
FTA's Bus Testing Program is conducted by Pennsylvania State University's Larson Transportation Institute in Altoona, Pa.
About The US Department of Transportation (DOT)
The mission of The US Department of Transportation is to serve the United States by ensuring a fast, safe, efficient, accessible andconvenient transportation system that meets our vital national interests and enhances the quality of life of the American people, today and into the future.