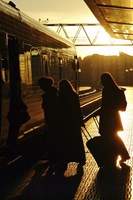 The U.S. Department of Transportation (DOT) today announced that it is seeking 25 candidates for appointment to the new National Advisory Committee on Travel and Tourism Infrastructure (NACTTI), which was established on June 1, 2016 and is planning to begin work in Fall 2016.
Mandated by the Fixing America's Surface Transportation (FAST) Act that was signed into law by President Obama in December 2015, the NACTTI will provide information, advice, and recommendations to the Secretary of Transportation, based on current transportation data on current and emerging priorities, issues, projects, and funding needs related to use of the nation's intermodal transportation network to facilitate travel and tourism.
NACTII membership will include a broad spectrum of public and private sector stakeholders involved in the transportation and travel and tourism industries including, but not limited to: the travel and tourism industry, product and service providers; travel and tourism-related associations; travel, tourism, and destination marketing organizations; the travel and tourism-related workforce; state tourism offices; state departments of transportation; regional and metropolitan planning organizations; local governments; organizations with expertise in intermodal connectivity for travel and tourism; and entities with expertise in public-private-partnerships (P3).
Nominations for NACTTI membership are due to DOT no later than Wednesday, July 13, 2016.
About The US Department of Transportation
The mission of The US Department of Transportation is to serve the United States by ensuring a fast, safe, efficient, accessible andconvenient transportation system that meets our vital national interests and enhances the quality of life of the American people, today and into the future.