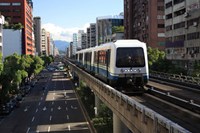 U.S. Department of Transportation Secretary Elaine L. Chao today joined U.S. Senator Rob Portman (R-OH) and officials from the Transportation Research Center Inc. (TRC) during a visit to Ohio to mark the Trump Administration's first 100 days.
TRC is the largest independent vehicle test facility and proving grounds in the United States. It is also home to the National Highway Traffic Safety Administration's (NHTSA) Vehicle Research and Test Center (VRTC), and headquarters for the agency's applied research in advanced vehicle safety technology and automated vehicles.
"The groundbreaking innovations being tested here play an important role in advancing autonomous technology, which can significantly increase mobility and safety," said Secretary Chao. "I am so pleased to see firsthand a public-private partnership that will help make the automotive industry and Ohio a leader in the President's plan to create jobs and growth in the innovation economy."
Secretary Chao toured the facility at TRC, including the 7.5 mile high speed test track and the 50 acre vehicle dynamics area. During her visit, she was also briefed by TRC leadership on a major proving ground upgrade establishing a new facility called the Smart Mobility Advanced Research and Test (SMART) Center. The SMART Center started with an initial $45 million investment by the state of Ohio and the Ohio State University, and will allow TRC to offer state of the art facilities needed to test highly automated vehicles. The SMART Center will tie into the larger Smart City initiative in the city of Columbus, which was awarded a U.S. DOT grant last year for this purpose.
About The US Department of Transportation
The mission of the Department is to serve the United States by ensuring a fast, safe, efficient, accessible and convenient transportation system that meets our vital national interests and enhances the quality of life of the American people, today and into the future.