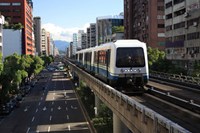 The U.S. Department of Transportation today announced that it will accept applications for $199 million in competitive grant funding for Positive Train Control (PTC) implementation. The grants, which will be selected by the Federal Railroad Administration (FRA) and awarded and administered by the Federal Transit Administration (FTA), will help commuter railroads implement PTC, which prevents accidents and saves lives.
"With more passengers depending on rail for transportation, Positive Train Control is needed more than ever," said U.S. Transportation Secretary Anthony Foxx. "I encourage all commuter railroads to take full advantage of this opportunity to invest in the most important rail safety technology in more than a century."
Congress authorized the funding in the Fixing America's Surface Transportation (FAST) Act, and the funding is available for Fiscal Year (FY) 2017. PTC technology can prevent certain train-to-train collisions, over-speed derailments, incursions into established work zones, and trains routed to the wrong tracks because a switch was left in the wrong position.
FRA will accept applications until 5 p.m. EDT on Sept. 28, 2016. Projects eligible for grants must develop information that assists in implementing PTC systems, such as costs of installing PTC systems; back office systems; PTC interoperability; technologies that will lower costs, accelerate implementation, enhance interoperability between host and tenant operations, and improve reliability of PTC systems; and support PTC system certification. Eligible applicants include any entity that is eligible to receive grants from the FTA, such as commuter railroads, operators, and state and local governments.
"This funding will get us a bit closer to activating Positive Train Control on some of the most important railroads in the country that transport millions of passengers to their jobs each morning and to their families each night," said FRA Administrator Sarah E. Feinberg. "We urge railroads to submit strong applications that make these dollars go as far as possible, and we remain hopeful that Congress will act on the President's request for more funding to make PTC a reality as quickly as possible."
In 2008, Congress mandated PTC implementation on certain railroad main lines where railroads transport poisonous-by-inhalation (PIH), or toxic-by-inhalation (TIH), hazardous materials, or any line where a railroad provides regularly scheduled passenger service. Last October, Congress extended the original deadline from December 31, 2015, to at least December 31, 2018.
The President has consistently made funding and assistance for commuter railroads to implement PTC a priority. In his FY 2017 budget request, the President requested $1.25 billion. This follows requests of $825 million in both FY 2015 and FY 2016.
Since 2008, FRA has provided significant assistance to support railroads' PTC implementation. Those efforts include:
Offering $25 million in new FY 2016 grant funding to railroads, suppliers and state and local governments;
Providing more than $650 million in grant funds to passenger railroads, including nearly $400 million in American Recovery and Reinvestment Act of 2009 funding;
Issuing a nearly $1 billion loan to the New York Metropolitan Transportation Authority to implement PTC on the Long Island Rail Road and Metro-North Railroad;
Building a PTC testbed at the Transportation Technology Center in Pueblo, Colorado;
Working directly with the Federal Communications Commission and the Advisory Council on Historic Preservation to resolve issues related to spectrum use and improve the approval process for PTC communication towers; and
Dedicating staff to work on PTC implementation, including establishing a PTC task force.
About The US Department of Transportation (DOT)
The mission of The US Department of Transportation is to serve the United States by ensuring a fast, safe, efficient, accessible andconvenient transportation system that meets our vital national interests and enhances the quality of life of the American people, today and into the future.