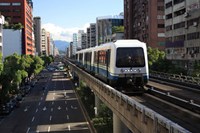 The U.S. Department of Transportation's (DOT) Federal Transit Administration (FTA) today issued the Public Transportation Safety Program final rule that establishes procedural rules for FTA to administer a comprehensive safety program to improve the safety of federally-funded public transportation systems. This final rule is the umbrella rule for all other FTA safety rulemakings and guidance documents, and formally adopts the Safety Management Systems (SMS) approach to safety as the basis of the FTA Safety Program.
"The safety of passengers and employees must be the top priority," said U.S. Transportation Secretary Anthony Foxx. "This final rule puts in place the essential foundation for FTA to help further improve safety for the millions of daily transit users and for those who operate and maintain the systems."
This final rule sets procedural rules for FTA to issue directives and advisories to the public transportation industry and to promulgate future safety regulations. It also lays out the rules of practice for FTA to inspect, investigate, audit, examine and test transit agencies' facilities, equipment, rolling stock and operations.
"With today's action, FTA continues its steady progress in establishing the regulatory framework needed to implement and strengthen our new and existing safety transit oversight and enforcement authorities," said FTA Acting Administrator Carolyn Flowers.
In addition, the final rule details FTA enforcement actions against transit agencies for noncompliance with Federal transit safety law, including: requiring more frequent oversight or reporting requirements; mandating that Federal funds be spent to correct safety deficiencies before funds are spent on other projects; withholding up to 25 percent of a grantee's funding under the Urbanized Area Formula Program; and imposing restrictions or prohibitions on a transit agency's operations if FTA determines that an unsafe practice or condition creates a substantial risk of death or personal injury.
The adoption of SMS further supports FTA by taking a risk-based approach to the development and implementation of its Safety Program and in the exercise of its enforcement authorities. SMS builds on existing transit safety practices by using data to proactively identify, avoid, and mitigate risks to safety.
The Public Transportation Safety Program final rule will become effective 30 days from the official Federal Register publication date and is one of several components of a comprehensive safety program Congress required FTA to establish in the Moving Ahead for Progress in the 21st Century (MAP-21) Act in 2012 and reauthorized in the Fixing America's Surface Transportation (FAST) Act in 2015 for federally-funded public transportation systems.
This rule marks the capstone on a concerted effort to make American transit systems even safer. FTA's State Safety Oversight Program final rule became effective in April 2016 and significantly strengthens state safety oversight agencies and their enforcement authority to prevent and mitigate accidents and incidents on rail transit systems. Also, interim provisions for the Public Transportation Safety Certification Training Program have been in effect since May 2015 and FTA is now reviewing comments received on the proposed rule which would make the interim provisions permanent.
About The US Department of Transportation
The mission of The US Department of Transportation is to serve the United States by ensuring a fast, safe, efficient, accessible andconvenient transportation system that meets our vital national interests and enhances the quality of life of the American people, today and into the future.