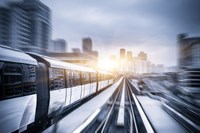 U.S. Transportation Secretary Anthony Foxx announced that the U.S. Department of Transportation will expand its partnership with NXP® Semiconductors to include secure authentication and identification solutions in the Smart City Challenge. The winner of the Challenge will receive up to $40 million from USDOT to help create a fully integrated, first-of-its-kind city that uses data, technology and creativity to shape how people and goods move in the future.
The NXP contribution to the Smart City Challenge now includes long-range, secure, private radio-frequency identification (RFID) tagging for automatic vehicle identification and road safety systems as well as smart card intergrated circuits (ICs) to secure admission to transportation, access control, retail and other municipal services. This follows a previous Smart City Challenge announcement that NXP will provide vehicle-to-vehicle and vehicle-to-infrastructure (V2X) technology.
The expanded support from NXP comes after DOT's recent announcement that seven cities were selected as finalists to the challenge: Portland, Kansas City, Columbus, San Francisco, Denver, Austin and Pittsburgh. In order to help them reach their ambitious goals, the USDOT has been working with the cities to connect them with private, public and non-profit partnerships that support their final proposals with technical assistance. In addition to NXP, other partners that have joined the Smart City Challenge include: launch partner Paul G. Allen's Vulcan Inc., Amazon Web Services, Mobileye, and Autodesk and Alphabet's Sidewalk Labs.
"In competitions like the Smart City Challenge, everyone's a winner," said U.S. Transportation Secretary Anthony Foxx. "These cities are tackling some of the most challenging transportation issues through technological innovation. They are identifying smarter ways to connect citizens to their government. We are excited to add this layer of technology in our Smart City program."
"For the Smart City aiming to link public transportation and mobility with its intelligent identification system to create more value to people and government, we are the perfect match. With NXP innovations like V2X, contactless technology or Near Field Communication (NFC) solutions, we provide smart, secure and convenient platforms on which to build reliable and flexible services for a smarter world," said Rick Clemmer, CEO and President at NXP. "The Smart City Challenge is a world leading initiative and a bold step towards the future of smart, connected public services. We are proud to be part of it."
The Smart City Challenge was launched by Secretary Foxx in December in response to the trends identified in the Beyond Traffic draft report. The report, issued last year, revealed that our nation's aging infrastructure is not equipped to deal with a dramatically growing population in regions throughout the country. It also identified a need to increase mobility options in developing megaregions – specifically mid-sized cities.
The winning city will be announced in June 2016. To view the list of cities that submitted applications for the Smart City Challenge or explore Smart City Challenge partnership opportunities, visit www.transportation.gov/smartcity.
About US Department of Transportation
The mission of the Department is to:
Serve the United States by ensuring a fast, safe, efficient, accessible and convenient transportation system that meets our vital national interests and enhances the quality of life of the American people, today and into the future.
Statutory Authority
The Department of Transportation was established by an act of Congress on October 15, 1966. The Department's first official day of operation was April 1, 1967.