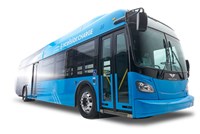 New Flyer of America Inc. ("New Flyer"), the U.S. subsidiary of NFI Group Inc. ("NFI"), the largest transit bus and motor coach manufacturer and parts distributor in North America, today announced that the Utah Transit Authority ("UTA") has awarded New Flyer a contract for five forty-foot New Flyer Xcelsior CHARGE™ heavy-duty, battery-electric buses.
The award includes the zero-emission buses and supporting charging equipment, and was supported by Federal Transit Administration ("FTA") funds through the Low or No Emission ("Low-No") Vehicle Deployment Program. Partners include the University of Utah, CALSTART, Utah State University, Rocky Mountain Power, and the Utah Office of Energy Development. Rocky Mountain Power will provide technical support and management for daily charging demands, CALSTART will collect data, analyze, and report on vehicle performance, and the Utah Office of Energy Development will support promotion of more efficient, renewable energy infrastructure.
"New Flyer is proud to deliver safe, reliable, zero-emission transit to the community of Salt Lake City and the University of Utah," said Wayne Joseph, President, New Flyer of America. "We commend UTA as an industry leader in developing and providing mobility solutions for its communities, and through deploying our Xcelsior CHARGE buses, also improving transit sustainability while improving air quality and conserving natural resources."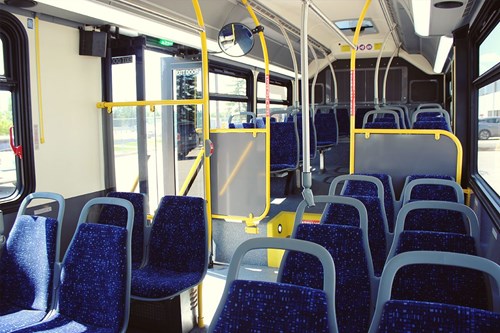 The Xcelsior CHARGE™ buses will serve Salt Lake City and the University of Utah campus. Three will be deployed on a UTA route between downtown Salt Lake City and the university, while the other two buses will support the university's new transit shuttle using a dedicated transit and pedestrian lane.
"The Utah Transit Authority is looking forward to putting these five New Flyer battery-electric buses into service in our community," said Steve Meyer, Interim Executive Director of UTA. "Air quality is a major concern in our service area and a top priority for UTA. These zero-emission buses will aid UTA in its efforts to improve our air quality throughout the year, and be a responsible steward of our precious natural resources."
The Utah Transit Authority is the provider of public transportation and mobility solutions in the Wasatch Front of Utah, including the metropolitan areas of Ogden, Park City, Provo, Salt Lake City, and Tooele. It provides over 45 million trips annually, and in 2014, UTA was named the American Public Transportation Association's Outstanding Public Transportation System.
NFI has over 50 years of experience in manufacturing zero-emission buses (ZEBs). In 2018, it joined CharIN to support industry charging standards for all electric vehicles, became the first licensee outside the Volvo Group to join OppCharge in North America, and became the first bus manufacturer in the world to sign on to the Shared Mobility Principles for Livable Cities. It is the only provider of full suite bus solutions in North America, offering transit, motor coach, and low-floor cutaway buses.
About New Flyer

New Flyer is North America's heavy-duty transit bus leader and offers the most advanced product line under the Xcelsior® and Xcelsior CHARGE™ brands. New Flyer actively supports over 44,000 heavy-duty transit buses (New Flyer, NABI, and Orion) currently in service, of which 7,300 are powered by electric motors and battery propulsion and 1,600 are zero-emission.