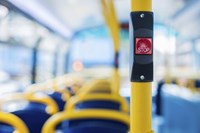 Van Hool, the independent Belgian bus, coach and industrial vehicle manufacturer has won a contract in Pau, France, to supply 8 Exqui.Cities, known as "tram-buses", powered by hydrogen. The use of hydrogen buses is not only a first for France it is also a world first for a full BRT (Bus Rapid Transit) system with 18-metre-long articulated tram-buses. This is the first time that hydrogen technology has been integrated as a power source in a tram-bus. The brand new vehicle is an 18.62 metre-long articulated tram-bus with a 125 passenger capacity and an autonomy of around 300 km. The order of 8 Exqui.Cities will be delivered to the SMTU-PPP (Syndicat Mixte de Transports urbains – Pau Portes des Pyrénées) and the STAP (Société de Transport de l'Agglomération Paloise) in the second half of 2019.
The bus's power source is an electric hybrid. On the one hand hydrogen (H2) and oxygen (O2) are converted to electricity in the fuel cell using electrolysis in "real time" and, on the other hand, the lithium batteries and electric motors provide additional power wherever and whenever it is needed. The energy that is released when the vehicle's brakes are applied is also re-used. The use of this technology results in the 0-emission of greenhouse gases or air polluting substances. The vehicle's only emission is water vapour.
Additional advantages offered by hydrogen buses include their autonomy of over three hundred kilometres and fast re-fuelling (10 minutes). These buses therefore allow bus companies to reach the highest level of operational flexibility and productivity.
Furthermore, tram-buses are characterised by a high level of passenger comfort, safety and information, and a high-frequency service. Because the vehicle is driven predominantly in its own lane, commercial speed is optimised. The tram-bus is an effective and less expensive alternative to tram, which requires greater investment in terms of equipment and infrastructure.
For Filip Van Hool, CEO of Van Hool, this is a significant development for the company: "Van Hool is looking forward to applying its extensive experience in the field of hydrogen-powered vehicles to the new tram-bus system in Pau. This is a challenge we are extremely happy to take on in Koningshookt. We have the necessary experience and confidence to make this project a success.
Firstly, Van Hool has already commercialised over 50 hydrogen-powered vehicles (32 in Europe and 21 in North America) and secondly, we have introduced around 200 tram-buses to 13 European countries and Martinique. The unique combination of a tram-bus with a hydrogen power source, is undoubtedly a new milestone in modern, ecological public transport."
François Bayrou, Chairperson of the Communauté d'agglomération Pau Béarn Pyrénées stated: "The Pau Béarn Pyrenees Aglommeration made a conscious choice for a hydrogen-innovation which results in a "zero emissions" solution and an everyday mode of transport, such as a bus, is thereby evolving into an environmental project that will benefit people."
Choosing this transport solution with no CO2 emissions or other air pollution (such as fine particles or nitrous oxides) has shown that it is possible to make environmentally-friendly choices that are in fact necessary within the context of the current energy transition, without compromising the service to public-transport users in Pau. This bus project is part of a proactive sustainable mobility policy, that will protect the environment and the natural surroundings in Pau and its suburbs. The tram-bus project in Pau is therefore the driving force behind a new mobility, providing an improved and sustainable quality of life in the town, which will increase both its economic and residential appeal.
The 3Emotion project, which is the framework within which these hydrogen buses will be supplied, is financially supported by the EU through the FCH JU under subsidy agreement 633.174 and by a series of local governments.
About Van Hool
Van Hool is an independent Belgian bus, coach and industrial vehicle manufacturer. The company, which was founded in 1947 is based in Koningshooikt. The majority of its production is destined for Europe and America. Van Hool has around 4,400 staff worldwide, the majority of which work in the production facilities in Koningshookt (Belgium) and in Skopje (Macedonia).