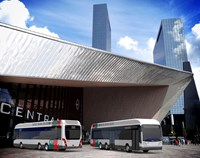 Koningshooikt (Lier) – Van Hool – an independent manufacturer of buses, touring coaches and industrial vehicles – has concluded a contract with RET, the public transport company of the metropolitan region of Rotterdam (Netherlands) for the construction of 2 latest-generation hydrogen buses.
Van Hool recently announced a similar order for London. This new contract also fits within 3Emotion, a European consortium for hydrogen buses in which Van Hool acts as project coordinator. Hydrogen buses, in which hydrogen is converted into electricity, are today amongst the most environmentally-friendly vehicles for public transport: they generate no emissions (total absence of harmful emissions and CO2) and have a strongly reduced noise level. The two buses for RET will be delivered in the summer of 2017.
Van Hool CEO Filip Van Hool is delighted with this new reference: "After London and Antwerp, yet another major European city - in this case Rotterdam - is now confirming its confidence in the most environmentally-friendly technology in public transport. These vehicles, with their high added value, are of crucial importance for the production facility in Koningshooikt."
The 3Emotion project, the framework in which these hydrogen buses are being supplied, is financially supported by the EU via the GO FCH, under subsidy agreement 633.174 and by a series of local government authorities.
About Van Hool
Van Hool is an independent Belgian manufacturer of buses, touring coaches and industrial vehicles. The company, founded in 1947, is established in Koningshooikt. Most of its production is intended for Europe and America. Van Hool has over 4,650 employees worldwide, of which most work in the production sites in Koningshooikt and Bree (Belgium) and in Skopje (Macedonia).