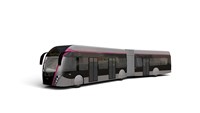 Van Hool, the Belgian independent manufacturer of buses, coaches and industrial vehicles, has secured a contract with the Department for Regional Development of Northern Ireland for the delivery to Belfast Rapid Transit (BRT) of 30 single-articulated Exqui.City hybrid trambuses. Delivery of the vehicles is scheduled for 2018.
Belfast Rapid Transit (BRT) is an innovative and ambitious project that aims to develop a new and dynamic public transport service for the Belfast Metropolitan Area by September 2018. The 30 Exqui.Citys will be in use from September 2018 over a 20 km route, with priority being given to these trambuses. The route will connect East Belfast, West Belfast and Titanic Quarter via the city centre.
Referring to the announcement, Ms Michelle McIlveen, Minister for Regional Development for Northern Ireland, explained: "With the new public transport system the Northern Ireland Department for Regional Development aims to provide the people of the Belfast Metropolitan Area with better and quicker access to jobs, hospitals, shops, schools, colleges and entertainment."
The BRT system aims to use high-quality rapid transit vehicles that offer a modern, comfortable environment for passengers in terms of space, safety and on-board information. The BRT system connects fully and meticulously equipped stops along the bus lane, giving the users quick and easy access to the vehicles. Real time information systems offer passengers the opportunity to easily plan their journey. Off-vehicle ticketing and validation speed up boarding and de-boarding the bus and thus increase the operational speed. With the deployment of the BRT the Department for Regional Development aims to provide a quick, reliable, comfortable and attractive alternative to private car use.
The 30 single-articulated Exqui.Citys are fitted with a hybrid diesel-electric drive, where the energy generated during braking is stored before being released on departure from the stop. The vehicle will therefore leave the stop in electric mode. These are the first so-called 'trambuses' that Van Hool has built with a right-hand drive in the closed driver's compartment. The vehicles are fitted with three double electronic doors for quick and safe boarding and de-boarding. The vehicles have a capacity of 106 passengers (44 seated, 61 standing and 1 place for wheelchair users). All vehicles are equipped with free Wi-Fi.
Filip Van Hool, CEO of Van Hool nv, says, "This is the second major tram bus order that we have announced in a fortnight. Two weeks ago we were pleased to announce the order for 20 electric trolley trambuses for Linz (Austria). This order for Belfast is unique because we are now embarking on business in the United Kingdom for the first time and we will therefore be building a right-hand drive tram bus. Both orders together account for 50 vehicles, nicely filling the order book for the trambuses. It seems more than ever that the tram bus is being seen as a fully-fledged means of public transport and that our vision for public transport – to manufacture high-quality vehicles on a multiple drive platform – is the right one. Needless to say, this is good for employment prospects at the Koningshooikt site, where we must concentrate on building vehicles with a high added value, such as this Exqui.City. After all, when it comes to regular city buses the competition is fierce, with competitors manufacturing these in low-cost countries such as the Czech Republic and Turkey."
The Exqui.City combines the flexibility of a bus with the efficiency of a tram. The trambuses have a clear futuristic design and a high level of comfort, with air conditioning, low noise levels and soft lighting. Accessibility is optimal, with a low entry step and smooth access thanks to three or four big entrance doors. The customer can choose from various drivetrain systems for this type of vehicle. The Exqui.City, with its multiple propulsion platform in both 18m and 24m versions, paves the way for the use of various environmentally friendly drive systems such as trolley buses, hybrid systems, fuel cells or batteries.
With the Exqui.City, available in 18m and 24m versions, Van Hool has come up with a realistic response to the demand for safe, environmentally-friendly, efficient and cost-effective urban public transport. Cities such as Metz (F), Barcelona (E), Parma (I), Geneva (CH), Luxembourg (L), Malmö (S), Bergen (N), Martinique (F), Hamburg (D) and Linz (A) have chosen the Exqui.City for that reason.
About Van Hool
Van Hool is a Belgian manufacturer of buses, coaches and industrial vehicles. The company, founded in 1947, is based in Koningshooikt. The vast majority of its production is destined for Europe and the United States. Van Hool has more than 4,750 employees worldwide, the majority of whom, naturally, work at the production sites in Koningshooikt and Bree (Belgium) and in Skopje (Macedonia).