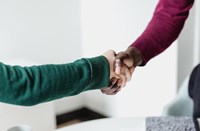 Vanishree Haridasan, Regional Director, South & West India for GEODIS India, named as "Woman Professional of the Year" at the India's South East – Cargo & Logistics Awards 2018 during the 10th India's South East CEO Conclave. The award ceremony was held at the biggest southern port city of Chennai.
The South East CEO Conclave is one of the top leadership conferences in South & East India. It nominates and selects the winners who are recognized for their exceptional work in the field of supply chain by senior industry and media experts, as well as government and research agency representatives.
Vanishree has been a part of GEODIS India management team since January 2003 and is instrumental in growing GEODIS in India. A technology enthusiast, she is part of the core team to set up a center of operational excellence for GEODIS India.
"I perceive the award as a commendation to the GEODIS team for meeting our customers' expectations. We thrive on faster, cheaper and better solutions for our customers and I am thankful to the selection committee for recognizing our efforts."- said Vanishree.
About Geodis
GEODIS is a Supply Chain Operator ranking among the top companies in its field in Europe and the World. GEODIS, which is part of SNCF Logistics, which in turn is a business line of the SNCF Group, is the number one Transport and Logistics operator in France and ranked number four in Europe. The international reach includes a direct presence in 67 countries and a global network spanning over 120 countries. With its five Lines of Business (Supply Chain Optimization, Freight Forwarding, Contract Logistics, Distribution & Express and Road Transport), GEODIS manages its customers Supply Chain by providing end-to-end solutions enabled by our people, our infrastructure, processes and systems.