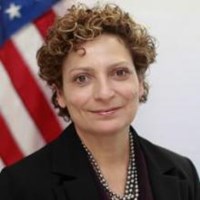 A familiar face to the MTA family will be returning...this time, to head New York City Transit. On Tuesday, MTA Chairman and CEO Thomas F. Prendergast announced the appointment of Veronique "Ronnie" Hakim as the eighth permanent president of the agency, which moves more than 8 million daily customers on subways, buses, the Staten Island Railway and paratransit service.
Hakim is a career transportation professional who returns to the MTA after an earlier 23-year career at the agency. For the past year and a half she has served as the Executive Director of NJ TRANSIT, which operates 12 commuter rail lines, three light rail lines, 261 bus routes and Access Link paratransit service across the state of New Jersey. She previously served nearly four years as Executive Director of the New Jersey Turnpike Authority.
"Our transit network is the lifeblood of the entire region, and I am glad to welcome Ronnie back to New York City Transit and to entrust her with the responsibility of ensuring safe and reliable service even as ridership grows every month," Prendergast said. "Ronnie's comprehensive transportation experience, her detailed vision for the future and her demonstrated ability to bring real improvements to customers make her the right person to tackle New York City Transit's challenges now."
In her time at the MTA, Hakim served as Special Counsel at New York City Transit as well as Executive Vice President and General Counsel at MTA Capital Construction, where she provided senior management with policy and legal advice on megaprojects such as the Second Avenue Subway, East Side Access and the 7 train extension to Hudson Yards. She holds a bachelor's degree in political science from the University of Rochester and a juris doctorate degree from the Pace University School of Law.
"Having spent more than two decades of my life at the MTA, I am deeply honored to have the opportunity to lead New York City Transit at a time when surging ridership is affecting every element of its operations," Hakim said. "Subway and bus customers have high expectations for the network they rely on every day, and I look forward to meeting their expectations of safety, reliability and quality at New York City Transit."
Hakim will begin serving as President on December 28. She replaces James L. Ferrara, the President of MTA Bridges and Tunnels, who has been serving as Interim President of New York City Transit since the August retirement of Carmen Bianco.
New York City Transit serves more than 5.6 million subway customers and 2.5 million bus customers on an average weekday. Its 47,000 employees provide mass transit and paratransit service throughout the city, including operating almost 6,400 subway cars at 469 stations, and more than 5,700 buses at more than 15,000 bus stops.
About The New York Metropolitan Transportation Authority (MTA)
The Metropolitan Transportation Authority is North America's largest transportation network, serving a population of 15.2 million people in the 5,000-square-mile area fanning out from New York City through Long Island, southeastern New York State, and Connecticut.