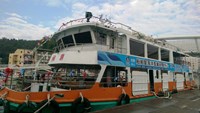 The Taiwanese harbour city of Kaohsiung has launched a new hybrid electric ferry –the first of its kind in Asia – which could revolutionise marine passenger transport across the region by curbing greenhouse and diesel emissions.
Kaohsiung recently re-launched the popular Cijian Island passenger ferry, retrofitted with a Visedo electric propulsion system, replacing the original diesel engines. It heralds Asia's first hybrid electric ferry and, if successful, the Kaohsiung City Government plans to retrofit the rest of its diesel fleet to help reduce pollution levels around Taiwan's largest harbour.
Visedo OY, a leading Finnish manufacturer of electric drivetrains for marine vessels, commercial vehicles and heavy duty applications, worked alongside Taiwan's Ship and Ocean Industries R&D Center, also known as SOIC, to complete the modernisation.
Visedo CEO Kimmo Rauma said:
"Given the geography, ferries are a vital mode of public transport across East and Southeast Asia but they are also the most energy intensive per kilometer travelled. Until now, diesel ferries have been a dirty but necessary part of life around harbours like Kaohsiung.
"In Hong Kong for example, passenger ferries make up the majority of licensed vessels in Victoria Harbour, where it's estimated air pollution kills about 3,200 people every year.
"Visedo has developed a cost-effective and efficient alternative, so rather than waiting until a vessel's service life ends, harbour cities can swap noisy, dirty and expensive diesel for silent electric powertrains that are more efficient, can halve fuel costs and emit no fumes or oil pollution."
Kaohsiung's new e-ferry, Ferry Happiness, will halve daily fuel consumption while transporting 15,000 passengers every day to Cijian Island, a popular tourist destination in Taiwan, at a top speed of nine knots.
Launching from berth every 15 minutes, the ferry will help share the eight million passengers who travel the 650m route every year. It's estimated the electric propulsion will save more than 25,000lt of fuel every year.
Visedo modernised the 100-tonne, 23m-long vessel with an electric system to replace the original 300HP diesel engines. The powertrain was designed to ensure pure electric cruising for half the ferry's operation time and, with fast shore charging, this pure electric percentage can be higher.
Head of SOIC's System Development ChihHung Lin said:
"Like many East Asian harbour cities, in Kaoshiung ferries play a key role for everyday public transport, often playing the role that buses do elsewhere.
"Taiwan's 'Harbour Capital' has long suffered from air pollution and only a few years ago the average person was consuming double the national Taiwan average of carbon dioxide.
"In response the Kaoshiung City Government is committed to cleaning up its fleet and is currently considering the possibility of replacing all 11 of its vessels with this new type of e-ferry. This also includes embarking on a hybrid tug-boat project."
About Visedo
Visedo is a technology leader in high efficiency hybrid and full electric vehicle solutions. We design and manufacture state-of-the-art drive trains for heavy-duty demands and optimal performance. We are a company with one purpose: to provide the leading electromobility on sea and land.