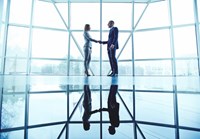 Volaris Group today announced that it has acquired Systemtechnik GmbH ("Systemtechnik"), a provider of fare management and ticketing solutions.
With over 20 years of experience in delivering high-value, comprehensive solutions to the public and private transport industry, Systemtechnik's solutions help to streamline and simplify ticket purchase, validation and management. The company's solutions are in operation in more than 200 transport companies across Germany, including several private rail operators. Every day over 150,000 transactions are processed using Systemtechnik's solutions.
"There is a lot of great innovation happening in the fare management and ticketing space, particularly in the e-ticketing market," said Helmut Jaskolka, Managing Director of Systemtechnik. "Being part of Volaris Group means we can further our investments in R&D to enhance our solution offering in meaningful ways, helping to continuously improve the experience for our customers and their passengers. We are pleased to be part of the Volaris team and are excited for what the future holds."
Systemtechnik joins Trapeze Group, TripSpark, SimpliTransport and PLANit in the Volaris People Transportation vertical.
Systemtechnik is headquartered in Sömmerda, Germany. The company continues to be led by the leadership team with oversight from Volaris.
About Volaris Group
Volaris acquires, strengthens and grows vertical market technology companies. As an Operating Group of Constellation Software Inc., Volaris is all about strengthening businesses within the markets they compete and enabling them to grow – whether that growth comes through organic measures such as new initiatives and product development, day-to-day business, or through complementary acquisitions.
About Trapeze
Trapeze is a world-leading supplier of public transport solutions. The companies in the Trapeze Group supply state-of-the-art software, Intelligent Transportation Systems (ITS) and mobile technologies to passenger transportation companies. Hundreds of public and commercial companies in North America, Europe, South Africa and Asia use Trapeze products to increase their efficiency, improve the quality and scope of their services and transport more people at lower costs.
The European headquarters of the Trapeze Group is Trapeze Switzerland GmbH at Neuhausen, Switzerland. The company provides transport authorities, agencies and operators with comprehensive control and information systems that enable better punctuality, shorter journey times and more precise transfers as well as dynamic passenger information and ticketing. With a strong international presence, Trapeze works in close cooperation with its customers to provide high quality control systems, on-board computers, passenger information signs at the stops and in the vehicles, a comprehensive ticketing solution along with a range of other customised services. For more information see www.trapezegroup.com. The Trapeze Group is a member of Constellation Software Inc. (TSX: CSU).