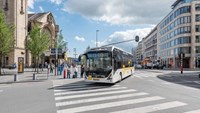 Beginning of June the first commercially manufactured all-electric Volvo buses started operating in the city of Differdange in Luxembourg. The operator is Sales-Lentz, which now has 4 electric buses, 12 electric hybrids, and 30 hybrids from Volvo in its fleet.
"The start of operations with the Volvo 7900 Electric marks yet another important step for all of us who work for a cleaner, quieter urban environment and more attractive public transport. Together with Differdange and Sales-Lentz we are in the vanguard of next-generation public transport," says Håkan Agnevall, President of Volvo Buses.
Differdange's focus on electrically powered buses is part of the city's ambitious sustainability drive, with public transport forming a crucial focus area. The four electric buses are used on four routes with length from 8 to 9.5 km. Each bus is driven approximately 25 minutes, then the buses' batteries are fast-charged in three to six minutes at the end stations using an open interface known as OppCharge (opportunity charging), which follows the ACEA (European Automobile Manufacturers Association) recommendations. The charging stations in Differdange were supplied by Heliox.
"Full electric was the next logical step after electric-hybrid, ahead in our strategy for sustainable urban mobility. Beginning September 2016, Sales-Lentz Autocars was commissioned a major project in green urban mobility: the Differdange-city buses 100% electric 12m urban buses. Start of operation: 2nd May 2017. We are excited to have done this turn-around in exactly 9 months with a very strong team formed of Volvo Gothenburg, Volvo Competence Center in Luxembourg, the city of Differdange, Heliox, ElectroWatt, Sales-Lentz technical department, and several other strong partners", says Jos Sales, CEO Sales-Lentz group.
"Sales-Lentz has always been an early adopter of new technologies. We understand our role as a public transport operator to trigger our suppliers, bus manufacturers, software developers, to deliver and develop technologies that meet the market needs. Being very close to public and private customers that require mobility solutions, Sales-Lentz sees itself as a development partner and entrepreneur ready to invest in sustainable mobility", says Wolfgang Schroeder, Managing Director, Sales-Lentz.
In addition to the all-electric Volvo 7900 Electric, the Volvo Buses range of electrified vehicles includes hybrid buses and electric hybrid buses (plug-in hybrids). All told, the company has sold more than 3300 electrified Volvo buses globally.
About Volvo Buses
Volvo Buses is a leading manufacturer of buses and coaches. With R&D centres in Europe, Asia and the Americas we reinforce our global offers with local expertise and presence.
Throughout our entire organisation we focus on Volvo's core values: Quality, Safety and Care for the Environment and we express this in the brand promise Driving Quality of Life.
Our success in bringing hybrid technology and electric propulsion to the market is an evidence our leadership and competence in this field.
Transporting people means a certain responsibility in terms of safety and here Volvo has a solid reputation. New features and systems are continuously introduced and our R&D plan for safety technology stretches over decades.
In total we are more than 7,000 dedicated people, annually delivering more than 10,000 vehicles, all of them in the class over 12 tonnes. We are active all over the world and our service network includes more than 140 countries