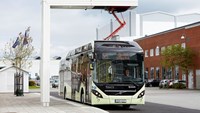 Bus operator Nobina has ordered 13 electric Volvo buses, which will operate in Malmö from the end of next year. This is the biggest single order so far for the Volvo 7900 Electric and marks one of the biggest drives for all-electric bus traffic in Sweden.
"It's really gratifying that one of Malmö's main routes will now be completely electrified with our quiet and exhaust-free electric buses. Electrically powered bus operations contribute to a far better environment for everyone who lives, travels or spends time in the city, and this is a trend we naturally want to boost," says Jörgen Sjöstedt, head of Volvo Buses on the Nordic market. "It's also highly significant that we are yet again delivering to Nobina, to whom we have been supplying buses for more than 80 years. Nobina is one of our most important partners."
The new buses are of the Volvo 7900 Electric model. They use about 80 per cent less energy than corresponding diesel buses and will be powered by green electricity to minimise environmental and climate impact. The bus batteries will be charged at the route's end stops, a process that takes between three and six minutes. The buses will run on route 7 in the city of Malmö, a distance of 14.7 km.
Volvo's electric buses recently started operating in the city of Differdange in Luxemburg. In addition to the all-electric Volvo 7900 Electric, the Volvo Buses range of electrified vehicles encompasses hybrid buses and electric hybrid (plug-in hybrid) models. All told the company has sold more than 3500 electrified Volvo buses globally.
About Volvo Buses
Volvo Buses is a leading manufacturer of buses and coaches. With R&D centres in Europe, Asia and the Americas we reinforce our global offers with local expertise and presence.
Throughout our entire organisation we focus on Volvo's core values: Quality, Safety and Care for the Environment and we express this in the brand promise Driving Quality of Life.
Our success in bringing hybrid technology and electric propulsion to the market is an evidence our leadership and competence in this field.
Transporting people means a certain responsibility in terms of safety and here Volvo has a solid reputation. New features and systems are continuously introduced and our R&D plan for safety technology stretches over decades.
In total we are more than 7,000 dedicated people, annually delivering more than 10,000 vehicles, all of them in the class over 12 tonnes. We are active all over the world and our service network includes more than 140 countries