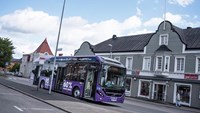 Volvo Buses has received an order for three electric hybrid buses from the German university city of Göttingen in Lower Saxony. The new buses – Volvo Electric Hybrids – will become operational in spring 2018. The purchaser is Göttinger Verkehrsbetriebe GmbH (GÖVB).
Göttingen's drive for electrified bus operations is part of the city's far-reaching aim to implement green public transport over the next few years. The public transport company Göttinger Verkehrsbetriebe has therefore decided to convert almost the entire public bus fleet step by step to electric buses. At present there are 19 bus routes in the city, several of which pass through the medieval city centre. It is planned to use the 12 m Volvo electric hybrids on routes 41 and 42.
The Volvo Electric Hybrid permits around seven kilometres of quiet, entirely emission-free operation between charges, corresponding to about 70 per cent of the distance of an average European route (about 90 per cent of all city bus routes in Europa have a length of max. 10 kilometers). Recharging of the bus batteries takes three to four minutes at the two line 41 and 42 routes' shared end station in the Gustav-Bielefeld-Strasse. In addition, the batteries are trickle-charged every night in the GÖVB bus depot. The electric hybrid buses are also fitted with a small diesel engine, which offers extended range in line operation and also offers greater flexibility.
In addition to the three Volvo Electric Hybrid buses, the order includes Volvo's system for battery monitoring. The charging station will be supplied by ABB. The charging equipment is based on the OppCharge open interface. OppCharge follows industry organisation ACEA's recommendations for fast-charging. The intermediate re-charging is done with 150 Kw, but the charging station will already be designed to provide 300 kW in order to be prepared for the charging of all-electric buses.
In addition to electric hybrids, the Volvo Buses range of electrified vehicles includes hybrid buses and all-electric buses. In total the company has sold more than 3500 electrified Volvo buses globally.
About Volvo Buses
Volvo Buses is a leading manufacturer of buses and coaches. With R&D centres in Europe, Asia and the Americas we reinforce our global offers with local expertise and presence.
Throughout our entire organisation we focus on Volvo's core values: Quality, Safety and Care for the Environment and we express this in the brand promise Driving Quality of Life.
Our success in bringing hybrid technology and electric propulsion to the market is an evidence our leadership and competence in this field.
Transporting people means a certain responsibility in terms of safety and here Volvo has a solid reputation. New features and systems are continuously introduced and our R&D plan for safety technology stretches over decades.
In total we are more than 7,000 dedicated people, annually delivering more than 10,000 vehicles, all of them in the class over 12 tonnes. We are active all over the world and our service network includes more than 140 countries