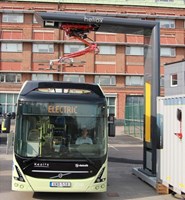 Volvo Buses and Heliox have inaugurated a charging station for electric buses based on the common OppCharge interface. With OppCharge, electrified buses and charging stations from different manufacturers can be used together. The aim is to facilitate the introduction of electric bus systems in cities the world over.
Together with Heliox, Volvo Buses have inaugurated a charging station for electric buses based on the common OppCharge interface. This is Heliox's 20th charging station for electric buses in Scandinavia.
Located at the Volvo Group R&D premises in Gothenburg, the installation is a joint reference project between Volvo Buses and Heliox. The aim of this cooperative venture is to cooperate on the development and commercialization of electric buses and electric hybrid buses equipped with systems for DC opportunity charging using open standards. Demonstrations of buses and charging stations both as products and systems offer a clear picture of what installation at the customer's premises looks like.
With the new charging station, Volvo is demonstrating that the company's electric buses are compatible with chargers from several different manufacturers. OppCharge is now being implemented as a common interface in more than 12 countries. Heliox charging systems can currently charge up to 450kW and in the nearby future it will be possible to charge 600kW.
"We are happy to work together with Heliox inaugurating yet another charging station based on the open interface for opportunity charging, OppCharge. With OppCharge the world's cities can rest assured that electric buses and charging infrastructure from different manufacturers are compatible with one another and that there is no risk of being restricted to specific manufacturers. This creates the right preconditions for accelerated transition to electric bus systems in cities all over the world," said Jessica Sandström, Senior Vice President City Mobility, Volvo Buses.
The commissioning of the charging system at Volvo premises marks for Heliox the start of cooperation between Volvo and Heliox. The cooperation is already about to be proven in reality where the first customer receives its electric buses and chargers in Luxembourg in May this year.
"High quality chargers with a high capacity and efficiency is the solid base for an electric mobile future and the vision of Heliox automotive", said Bob Bouhuijs. "In the future Heliox will work closely with bus OEMs like Volvo to globally spread this vision and to contribute to sustainable and cost-effective transport solutions."
Volvo Buses is the market leader in electromobility and has delivered more than 3300 hybrids, electric hybrids and electric buses to 21 countries globally.
Heliox is the global market leader in fast charge systems within public transport, mining and port equipment. Heliox operates on a global level with headquarters in The Netherlands and local offices in the UK, Australia, Singapore & India.
OppCharge
Common interface between charging station and vehicles, based on the car industry CCS standard.
Charging power 150, 300 or 450 kW.
Pantograph attached to the pylon makes it possible to use a cost-effective solution that adds little weight to the bus roof.
Conductive charging using current collectors, with communication between the bus and charging station via Wi-Fi.
Among the manufacturers supporting OppCharge are charging infrastructure providers ABB, Heliox and Siemens, and bus manufacturers Ebusco, Iveco, Solaris and Volvo.
About Volvo Buses
Volvo Buses is a leading manufacturer of buses and coaches. With R&D centres in Europe, Asia and the Americas we reinforce our global offers with local expertise and presence.
Throughout our entire organisation we focus on Volvo's core values: Quality, Safety and Care for the Environment and we express this in the brand promise Driving Quality of Life.
Our success in bringing hybrid technology and electric propulsion to the market is an evidence our leadership and competence in this field.
Transporting people means a certain responsibility in terms of safety and here Volvo has a solid reputation. New features and systems are continuously introduced and our R&D plan for safety technology stretches over decades.
In total we are more than 7,000 dedicated people, annually delivering more than 10,000 vehicles, all of them in the class over 12 tonnes. We are active all over the world and our service network includes more than 140 countries.