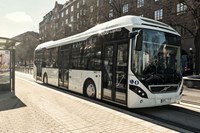 As the first bus manufacturer in the world, Volvo introduces hybrid buses in India. The Volvo hybrids will be part of a city bus pilot in Navi Mumbai starting in the first half of 2016.
Volvo is now introducing its hybrid technology in India. The first Volvo hybrid city bus pilot will start in Navi Mumbai with Navi Mumbai Municipal Transport (NMMT), a major transportation service in Navi Mumbai and its surrounding areas and cities.
To promote environmentally-friendly vehicles, the Indian government has recently launched the FAME India (Faster Adoption and Manufacturing of Hybrid and Electric vehicles in India) scheme, offering incentives on electric and hybrid vehicles.
"Volvo has a leading position in hybrid technology and electromobility. Hybrid buses is an important solution for cities that want to reduce vehicle emissions. I am very proud that Volvo is the first bus manufacturer to introduce hybrid buses in India", said Håkan Agnevall, President Volvo Buses.
The Volvo hybrids will be manufactured in the company's facility in Bangalore.
"The unveiling of the first Volvo hybrid city bus in India is contextual given the impetus from the central government to popularize public transport, while supporting the adoption of clean technology. Volvo has played a key role in redefining urban commute for millions of passengers in Indian cities. Now, with the Volvo hybrid city bus we are confident of transforming the public transport landscape further, by inspiring more cities to adopt this solution," said Akash Passey, Senior Vice President, Region International, Volvo Buses.
Volvo is a leader in hybrid technology with more than 2,300 hybrid buses sold to over 20 countries. The Volvo hybrids offer a fuel consumption which is up to 39 percent lower than that of regular diesel buses, which in turn cuts carbon dioxide emissions by the same amount and nitrogen oxides and particles by 50 %.
Volvo's electric hybrids, offering fuel savings of 75 %, are running in regular traffic in Gothenburg, Stockholm and Hamburg. In June 2015, bus route 55 was opened in Gothenburg, served by three all-electric buses and seven electric hybrids from Volvo Buses. In all, Volvo has sold more than 5,000 hybrids and full electric buses worldwide.
Volvo has sold over 5,300 buses in India since 2001. The company has about 1,500 city buses operating in 34 Indian cities.
About Volvo Buses
Volvo Buses is a leading manufacturer of buses and coaches. With R&D centres in Europe, Asia and the Americas we reinforce our global offers with local expertise and presence.
Throughout our entire organisation we focus on Volvo's core values: Quality, Safety and Care for the Environment and we express this in the brand promise Driving Quality of Life.
Our success in bringing hybrid technology and electric propulsion to the market is an evidence our leadership and competence in this field.
Transporting people means a certain responsibility in terms of safety and here Volvo has a solid reputation. New features and systems are continuously introduced and our R&D plan for safety technology stretches over decades.
In total we are more than 7,000 dedicated people, annually delivering more than 10,000 vehicles, all of them in the class over 12 tonnes. We are active all over the world and our service network includes more than 140 countries.