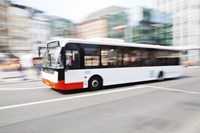 Volvo has sold 203 city bus chassis to the urban public transport system of Panama City. After the delivery, nearly 1,500 Volvo buses will be running in the capital of Panama.
"This sale is the result of a very positive customer experience with Volvo's vehicles in recent years, which has placed us in a leadership position in the heavy-duty urban bus segment", said Fabiano Todeschini, president of Volvo Bus Latin America.
The purchase is a continuation of the delivery made in 2010 of over one thousand Volvo buses to Panama. In 2016, the administration of Panama City took over responsibility for urban transportation in the metropolitan region. The administration has further expanded the public transport operation to also include metropolitan areas. The 203 Volvo buses will run on the highways connecting the capital to its satellite cities. The buses will be delivered by the end of the year.
"We are very proud of winning this deal. It reinforces the quality of our chassis and maintains us in the absolute leadership of the urban and metropolitan bus fleet of the Panamanian capital", said Euclides Castro, business and strategic projects director for Volvo Bus Latin America.
Volvo's low-floor chassi model is 13.2 m long and equipped with, among other things, EBS brake system and ESP (electronic stability program) which significantly reduces the possibility of skidding or tipping over.
The buses will feature Volvo's fleet management software that enables operators to control a number of functionalities in the vehicle: fuel consumption, driving performance, on-line reports on the vehicle's position, average speed for the fleet, engine rpms etc.
About Volvo Buses
Volvo Buses is a leading manufacturer of buses and coaches. With R&D centres in Europe, Asia and the Americas we reinforce our global offers with local expertise and presence.
Throughout our entire organisation we focus on Volvo's core values: Quality, Safety and Care for the Environment and we express this in the brand promise Driving Quality of Life.
Our success in bringing hybrid technology and electric propulsion to the market is an evidence our leadership and competence in this field.
Transporting people means a certain responsibility in terms of safety and here Volvo has a solid reputation. New features and systems are continuously introduced and our R&D plan for safety technology stretches over decades.
In total we are more than 7,000 dedicated people, annually delivering more than 10,000 vehicles, all of them in the class over 12 tonnes. We are active all over the world and our service network includes more than 140 countries