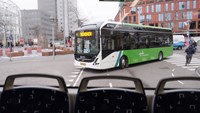 Five electric Volvo buses have now started regular operation in the city of Leiden, the Netherlands. The buses are part of an order of 23 fully electric buses from public transport company Arriva in the Netherlands.
Multinational public transport company Arriva, with operations in 14 countries across Europe, is one of the leaders in the introduction of alternative propulsion technologies. The order for 23 fully electric buses from Volvo was signed in June 2018.
Now the complete turnkey solution, with electric buses and ABB charging stations, is operational on the first routes. By August, Leiden will have a completely electrified city bus system.
"We are delighted to have established our first electric bus system in the Netherlands in cooperation with Arriva. The start of operation has been smooth and this new system is now up and running reliably. This shows the close partnership between Volvo, ABB and Arriva, in which we all work together as one party to get people moving silently and clean through the city of Leiden" said Bas Dubois, Director Volvo Buses Benelux.
"As a global leader in EV charging solutions, we are proud to be partnering with Volvo and Arriva to help drive sustainable transportation in the Netherlands", commented Frank Muehlon, Head of ABB's global business for EV Charging Infrastructure. "This project marks a significant step in a long-term partnership between ABB and Volvo, which has seen both companies work side by side for many years on co-developing electric bus solutions and open standards for the future of urban mobility. We are delighted to be involved in delivering such a landmark transport solution for the city of Leiden."
Martijn van de Weijer, regional director West of Arriva Netherlands: "Arriva wants to play a pioneering role in the field of sustainability and energy transition. That is why we already started using electric buses in 2010 as one of the first public transport providers in the city of Den Bosch We are now implementing electric buses in more regions, including now with Volvo in the city of Leiden."
The fully electric buses are being sold as a complete turnkey package whereby Volvo takes care of all vehicle maintenance at a fixed monthly cost.
The buses will be fast-charged using four charging stations. The charging stations will be based on an open interface – OppCharge - which means they can be used by other electrified bus makes too. Energy consumption for Volvo's electric buses is about 80 percent lower than for corresponding diesel buses.
Volvo's fully electric buses have previously been ordered by cities in countries such as Sweden, Britain, Denmark, Luxembourg, Norway and Poland. In addition to the all-electric Volvo 7900 Electric, the Volvo Buses range of electrified vehicles includes hybrid buses and electric hybrid (plug-in hybrid) models. All told the company has sold more than 4000 electrified Volvo buses the world over.
About Volvo Buses
As one of the world's biggest manufacturers of large buses and coaches, Volvo Buses has a responsibility in society. We want to be part of shaping the future, based on our core values of quality of life, Safety and Environmental Care. We do it by driving our industry and society forward through innovative solutions that improve everyday life for people and entire cities, today and tomorrow.