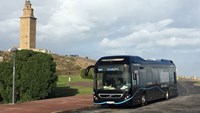 Volvo's hybrid buses are what you call full-hybrids, which means that they run entirely without exhaust emissions, powered by electricity from standstill up to 20 km/h, and also when the bus is at a standstill at the bus stop. Above this speed, propulsion is provided by a small diesel engine. Fuel consumption and CO2 emissions are up to 39 per cent lower than for a comparable diesel bus.
Unlike plug-in hybrids and all-electric buses, Volvo's hybrid buses require no special infrastructure. Their batteries are charged on board the vehicle using the energy generated by engine braking. This means that hybrid buses can be used on any bus route both in inner-city operations and in the suburbs. From the viewpoint of capacity too, it offers considerable flexibility. Volvo's hybrid buses are available in conventional 12-metre configuration, as articulated buses, and as double deckers.
"At the same time as our sales of electric hybrids and all-electric buses are rising, we are also seeing continued stable demand for our hybrid models. The combination of electric propulsion at low speeds and at bus stops, good energy efficiency and considerable flexibility makes them a particularly attractive alternative to both small and large cities," says Marie Carlsson, Director e-mobility Solutions Europe at Volvo Buses.
Volvo's biggest single market for hybrid buses is Britain, which accounts for almost half of total sales. Over the past few years demand has seen a significant increase in several countries, particularly in Belgium and Spain. Customers on the Spanish market have invested in a total of more than 300 hybrid buses from Volvo, of which 120 in the past year alone. In Sweden Volvo Buses has sold more than 200 hybrid buses to cities such as Gothenburg, Sundsvall, Nässjö, Värnamo and Kungsbacka.
Between January 1, 2018 and April 1, 2019 the number of sold and ordered hybrid buses totalled 817 units.
About Volvo Buses
As one of the world's biggest manufacturers of large buses and coaches, Volvo Buses has a responsibility in society. We want to be part of shaping the future, based on our core values of quality of life, Safety and Environmental Care. We do it by driving our industry and society forward through innovative solutions that improve everyday life for people and entire cities, today and tomorrow.