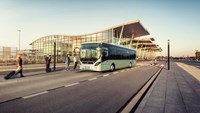 Volvo Buses has received an order for 303 buses from public transport company Tide Buss AS in Norway. 290 of these are intercity buses of the Volvo 8900 model. This is the largest order that Volvo has ever received from Norway.
Public transport operator Tide Buss has secured the tender for bus operations in Tromsö and the Bergen West region and has placed an order for 303 buses from Volvo to meet these needs. The order encompasses 290 Volvo 8900 intercity buses, ten Volvo 9700 long-distance (tourist and line-haul) coaches, and three minibuses.
The Volvo 8900 buses will be delivered with low-entry floor in both 2-axle and 3-axle configurations and with normal floor. The buses will be sold with a service contract whereby Volvo takes care of all vehicle maintenance at a fixed monthly cost. The minibuses are based on the Renault Master. All the buses will enter traffic in summer 2019.
"We're really happy about our great cooperation with Tide Buss and the confidence the company shows in us by placing this order," says Svenn-Åge Lökken, Market Director Volvo Buses Norway.
"Volvo's organisation offers competitive products and terms. They also provide the professionalism needed to give us the security and predictability that this kind of long-term contract requires," says Roger Harkestad, CEO of Tide Buss AS.
Volvo 8900 will be equipped with Zone Management, a system which uses gps to create geographical speed zones and prevents the bus from exceeding the speed set.
The Volvo 8900 is designed for intercity and commuter operations and one of Volvo's biggest sellers in the Nordic region. More than 3700 complete buses of this model have been delivered since its launch in 2011.
In autumn 2017 Tide Buss purchased 25 Volvo 7900 Electric buses from Volvo Buses for operation in Trondheim starting in August 2019.
About Volvo Buses
As one of the world's biggest manufacturers of large buses and coaches, Volvo Buses has a responsibility in society. We want to be part of shaping the future, based on our core values of Quality, Safety and Environmental Care. We do it by driving our industry and society forward through innovative solutions that improve everyday life for people and entire cities, today and tomorrow.