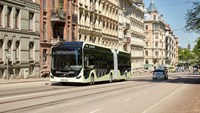 Gothenburg in Sweden now takes the lead in the transition to electrically propelled urban bus traffic in Sweden. The order for 30 all-electric Volvo buses from GS Buss, subsidiary of Göteborgs Spårvägar, and Public Transport Authority Västtrafik, is the biggest order so far for all-electric buses in Sweden. It is also Volvo Buses' biggest order to date. The buses will run on route 60 in Gothenburg from next autumn.
Västtrafik, the public transport provider in the Västra Götaland region, has high sustainability targets. Among other things, carbon dioxide emissions are to be cut by 80 % by 2020, 95 % of all transport shall take place with renewable energy by 2025, and noise from transport is to be reduced.
More than 60 Volvo hybrid buses are already operating in Gothenburg. Since 2015, route 55 has been operated by Volvo all-electric buses and electric hybrids as part of the ElectriCity framework. As of June 25 two all-electric Volvo high-capacity buses have also been operating on part of route 16.
Now GS Buss, one of the providers of bus operations in Gothenburg, is purchasing 30 all-electric buses from Volvo. This is the biggest single order that Volvo has so far received for this bus model. The new buses will run on route 60 between Redbergsplatsen and Masthugget and also on routes 59 and 62.
They will have 200 kWh battery capacity and will be charged at the route's end stops and in the depot. GS Buss will be responsible for the charging infrastructure. The buses will be delivered in the third quarter of 2019.

Bus route 60 is one of Västtrafik's most heavily trafficked routes in Gothenburg. In 2017 there were more than 6.2 million journeys on this route and additional 0.7 million journeys on route 59 and 62.
"It's great to put more electric buses on the road in Volvo's home city. We know that the electric buses on route 55 are highly appreciated by passengers, drivers and local residents alike."
"Now many more people in Gothenburg will be able to travel without causing noise and emissions on one of Gothenburg's most heavily trafficked bus routes. In addition to giving passengers and drivers a pleasanter ride the electric buses will contribute to a quiet, emission-free environment for everyone living along the route. Electric buses create entirely new possibilities for urban planning since we can bring public transport closer to people, even indoors," says Håkan Agnevall, President Volvo Buses.
Volvo will provide all maintenance for both the vehicles and their batteries at a fixed monthly cost.
Volvo recently announced the sale of 23 electric buses to Leiden in the Netherlands and another 17 to Oslo. Volvo has now sold electric buses to Britain, Denmark, Luxemburg, the Netherlands, Norway, Poland, Singapore and Sweden.
In addition to the all-electric Volvo 7900 Electric the Volvo Buses range of electrified vehicles encompasses hybrid buses and electric hybrids (plug-in hybrids). All told Volvo has sold more than 4000 electrified buses globally.
About Volvo Buses
As one of the world's biggest manufacturers of large buses and coaches, Volvo Buses has a responsibility in society. We want to be part of shaping the future, based on our core values of Quality, Safety and Environmental Care. We do it by driving our industry and society forward through innovative solutions that improve everyday life for people and entire cities, today and tomorrow.