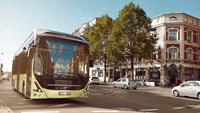 The new electric buses will start operating next summer. They are being sold in the form of a complete turnkey solution, with Volvo taking care of all maintenance for both the vehicles and their batteries at a fixed monthly cost.
Maintenance will be handled by Bröderna Brandt Lastvagnar in Uddevalla.
The electric buses have a 200 kWh battery capacity. They will be charged via CCS cables in the depot and they are equipped with roof-mounted charging rails for quick-charging on their scheduled routes in the future. The buses will feature USB sockets for passengers to charge mobile phones and other devices.
The energy consumption of Volvo's electric bus is about 80 percent lower than that of a corresponding diesel bus.
Volvo has now sold all-electric buses in Sweden, Britain, Luxemburg, the Netherlands, Norway and Poland. In addition to the all-electric Volvo 7900 Electric, the Volvo Buses range of electrified vehicles also includes hybrid buses and electric hybrids (plug-in hybrids). All told the company has sold more than 4000 electrified Volvo buses globally.
About Volov Buses
As one of the world's biggest manufacturers of large buses and coaches, Volvo Buses has a responsibility in society. We want to be part of shaping the future, based on our core values of Quality, Safety and Environmental Care. We do it by driving our industry and society forward through innovative solutions that improve everyday life for people and entire cities, today and tomorrow.