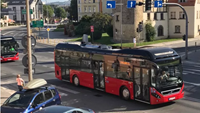 The city of Grudziądz in northern Poland has ordered seven Volvo 7900 Electric Hybrid buses. This is the second order for Volvo's electric hybrid buses in Poland. Earlier this year Inowroclaw ordered eight electric hybrids and eight fully electric buses from Volvo. In total, Volvo has now sold 112 electrified buses in Poland.
The electric hybrid buses are being sold as a turnkey package whereby Volvo takes care of all vehicle and battery maintenance. The buses will be fast charged at the end stops via pantograph. The charging stations, which will be delivered by Heliox, will be based on the common interface OppCharge, whereby the charging stations can also be used by electrified buses from other vehicle manufacturers too.
Energy consumption for Volvo's electric hybrid buses is about 60 percent lower than for corresponding diesel buses. Emission of carbon dioxide is reduced by 75 to 90 percent. The electric hybrid can run in electric mode for about 70% of the route. The Volvo 7900 Electric Hybrid offers great flexibility in operation; it can run as an electric bus in selected areas, and the small diesel engine offers extended range in line-operation.
"This solution allows for a completely different perspective of the city planning. It is possible to create zero-emission, exhaust-free zones since the electric hybrid has the ability to drive fully electrically in such zones. It opens up for bus stops inside a for example shopping malls and hospitals," says Małgorzata Durda, Bus Manager, Volvo Buses Poland.
The buses will be delivered to Grudziadz in the spring of 2019. Manufacturing will take place in Volvo's factory in Wrocław, Poland.
Volvo hybrid buses have previously been delivered to the cities of Wrocław, Sosnowiec, Inowrocław, Jelenia Góra, Tarnowskie Góry and Warsaw, and recently the company won tenders for the delivery of hybrid buses to Kraków, Białystok and Krosno. Last year, Volvo delivered 35 hybrids to Sosnowiec; to date the largest fleet of hybrid buses in Poland. All in all, Volvo has sold more than 4,000 electrified buses worldwide.
About Volco Buses
As one of the world's biggest manufacturers of large buses and coaches, Volvo Buses has a responsibility in society. We want to be part of shaping the future, based on our core values of Quality, Safety and Environmental Care. We do it by driving our industry and society forward through innovative solutions that improve everyday life for people and entire cities, today and tomorrow.