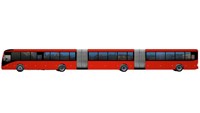 Volvo today launches the world's largest bus chassis at the FetransRio exhibition in Rio de Janeiro, Brazil. Volvo is a leading supplier of buses for high passenger capacity transport systems, Bus Rapid Transit (BRT). The new biarticulated chassis, Gran Artic 300, is 30 meter and can carry up to 300 passengers.
"We are leaders in vehicles for high-capacity transportation systems, Bus Rapid Transit, and now we introduce the world's largest bus chassis. This vehicle will provide more efficient transportation systems, offering a higher quality for the passengers and improved cost efficiency for the transport operators", said Fabiano Todeschini, head of Volvo Bus Latin America.
The new Gran Artic 300 has been developed in Brazil especially for BRT systems – high demand transportation systems where buses run on dedicated lanes. The bus will be able to carry up to 30 passengers more than the preceding model. One biarticulated bus of the model replaces three standard vehicles.
At the FetransRio exhibition, Volvo also unveils a new 22 m articulated chassis, Super Artic 210. In addition to the higher transportation capacity, 210 passengers, it is equipped with five doors. The extra door facilitates boarding and alighting and also enables a better passenger distribution inside the bus. The vehicle is built on only three axles.
The high-capacity buses reduce the number of vehicles operating in the bus corridors, leading to an increased average speed of the system as well as reduced emissions.
Volvo is a pioneer in the development of vehicles for BRT systems and recognized as the market leader. The company has delivered more than 4,000 buses to the BRT-systems of Curitiba, Bogotá, Guatemala City, Mexico City, Santiago de Chile and San Salvador.
"We are proud to say that the world's largest bus is a Volvo and that it was developed in Brazil", said Idam Stival, Sales engineering coordinator, Volvo Bus Latin America.
Volvo's bus range for high-capacity urban transportation systems:
| | | |
| --- | --- | --- |
| Chassis model | Length | Passenger capacity |
| Artic 150 | 18.6 m | 150 |
| Artic 180 | 21 m | 180 |
| Super Artic 210 | 22 m | 210 |
| Gran Artic 300 | 30 m | 300 |
About Volvo Buses
Volvo Buses is a leading manufacturer of buses and coaches. With R&D centres in Europe, Asia and the Americas we reinforce our global offers with local expertise and presence.
Throughout our entire organisation we focus on Volvo's core values: Quality, Safety and Care for the Environment and we express this in the brand promise Driving Quality of Life.
Our success in bringing hybrid technology and electric propulsion to the market is an evidence our leadership and competence in this field.
Transporting people means a certain responsibility in terms of safety and here Volvo has a solid reputation. New features and systems are continuously introduced and our R&D plan for safety technology stretches over decades.
In total we are more than 7,000 dedicated people, annually delivering more than 10,000 vehicles, all of them in the class over 12 tonnes. We are active all over the world and our service network includes more than 140 countries