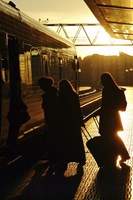 VR wants lead the way in the development of future mobility services. In September, we will begin building a nationwide travel chain network in Finland together with our partners, seamlessly connecting rail services with other modes of public transportation.
In the future, passengers will only need to choose a starting point and destination: the most functional routes, modes of transportation and combinations of these will already be fully thought-out for the passengers. To start with, a ticket can be purchased conveniently at one location and the trip can be planned as a single unit. The goal is to allow passengers to travel from door to door on just one ticket. This unit is called a "travel chain", which is built together with our partners. VR's objective is to develop a model that serves as an international guidepost, showcasing the functionality and benefits of travel chains. Quantum leaps in digitalisation make flexible and easy travel services and chains possible.
In September, VR will be hosting a major Door-to-Door Hackathon, where participants brainstorm and build travel chain customer service and business opportunities together with start-up enterprises. "We're looking for solutions and ideas that are as practical as possible," says VR Senior Vice President for VR Passenger Services Maisa Romanainen.
During the week of 12- 16 September, industry experts and start-up enterprises will work together to come up with services and solutions related to travel chains. The general public is welcome to help brainstorm on 14 September, when the Hackathon will be hosting a public event.
New services and recruiting
For VR, travel chains are an integral part of business. Building travel chains around trains offers a truly unique opportunity to further enhance the attractiveness of public transportation. "We're now opening VR interfaces for the development of travel chains," explains VR Planning Director for long-distance traffic Antti Tuominen. At present, VR trains carry some 60 million passengers a year.
Train travel should be easily and seamlessly linked with other modes of public transportation, and vice versa. "We've been talking about travel chains for a long time - now, it's time to make it happen," says Romanainen. VR will be expanding its ranks by hiring several industry experts this autumn. "This will help ensure that the travel chain ideas are quickly made into functional entities for making travel easier.
This autumn, passengers can expect to find services making their travel experience easier. We will also tell how the services created during the Hackathon week were put into practice for the benefit of our passengers.
For more information on the Hackathon, visit vr.fi. Also read VR Director, Long distance planning Antti Tuominen's Train Blog on travel chains (in finnish).
About VR Group
VR Group comprises three business divisions serving vital customer segments.
These are VR, providing passenger services; VR Transpoint, providing logistics services; and VR Track, specialising in infrastructure engineering.VR's business operations support train operations and maintenance units as well as the Russia and International Business operations.