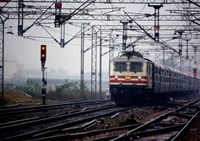 Wabtec Corporation (NYSE: WAB), has signed a $97 million contract to provide signaling and communication services for TEX Rail, a new commuter rail line being developed by the Fort Worth Transportation Authority. The authority expects to open the 27-mile, double-track line in 2018.
Under the contract, Wabtec will provide wayside signaling and communication services, including a control and command center, for the line.
Raymond T. Betler, Wabtec's president and chief executive officer, said: "This project demonstrates our capabilities and expertise in wayside signaling and communications, which we believe is an attractive growth market for Wabtec. We already have a strong presence in the Fort Worth region, and we look forward to our role in this important expansion of commuter rail service there."
The TEX Rail line will begin in downtown Fort Worth and extend to the Dallas Fort Worth International Airport. The service is projected to carry more than 13,600 daily riders using nine rail stations when it's fully built.
About Wabtec Corporation
Wabtec Corporation is a leading global provider of equipment, systems and value-added services for transit and freight rail. Through its subsidiaries, the company manufactures a range of products for locomotives, freight cars and passenger transit vehicles. The company also builds new switcher and commuter locomotives, and provides aftermarket services. The company has facilities located throughout the world.