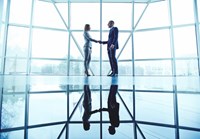 Wabtec Corporation (NYSE: WAB) has closed the initial cash tender offer and exchange offer (the "Offer"), which was open from Dec. 27, 2016 to Jan. 30, 2017, for shares of Faiveley Transport and announced the following:
Wabtec, indirectly through Wabtec France, acquired a total of 4,065,860 Faiveley Transport shares, representing 27.54% of Faiveley Transport's share capital. Of this total, 3,816,195 shares were acquired with cash, and 249,665 shares were exchanged for Wabtec shares.
Including the shares it already held, Wabtec France now holds 78.17% of the share capital and 76.26% of the voting rights of Faiveley Transport.
As expected, the Offer will be reopened under the same terms as those provided for initially. The dates and duration of the subsequent Offer will be determined by the French regulator. If, following the subsequent Offer, the minority shareholders represent less than 5% of the share capital and voting rights of Faiveley Transport, Wabtec France plans to implement, within three months of the closing of the subsequent Offer, a mandatory squeeze-out procedure for the Faiveley Transport shares which were not tendered in the subsequent Offer.
As previously announced, on Feb. 21, 2017 Wabtec will release financial results for the fiscal year ended on Dec. 31, 2016. The company plans to file its Form 10-K on Feb. 24, 2017.
About Wabtec Corporation
Wabtec Corporation is a leading global provider of equipment, systems and value-added services for transit and freight rail. Through its subsidiaries, the company manufactures a range of products for locomotives, freight cars and passenger transit vehicles. The company also builds new switcher and commuter locomotives, and provides aftermarket services. The company has facilities located throughout the world.