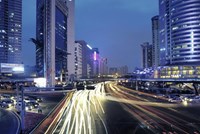 A new era of transport is about to begin in the United Kingdom, where West Midlands will become the first region to pilot Mobility as Service (MaaS) to its residents. The pioneering service, Whim by the MaaS operator MaaS Global, will be launched in the West Midlands metropolitan area in early 2017. The launch follows a freshly signed Memorandum of Understanding (MoU) by the West Midlands Combined Authority, transport service providers National Express and SilverRail, Birmingham City Council and MaaS Global. Other transport companies will be welcomed onboard the Whim service in the future.
A single service for all transport
The MaaS concept means looking after people's daily mobility needs with a single service, which can be used either on a subscription or pay-as-you-go basis. In West Midlands MaaS can transform how over 5.5 million people get from A to B – including commuters in Britain's second most populous city, Birmingham. Kaj Pyyhtiä, the Co-Founder and CXO of MaaS Global, sees enormous potential in the region:
"This is an incredibly exciting location for us to start our first international operation. With their open and forward looking approach, Transport for West Midlands, and local transport service providers from National Express and SilverRail to Enterprise are the true enablers of bringing MaaS to the UK. The ongoing support of Transport Systems Catapult has also been invaluable – we simply couldn't have found better partners."
The world's first capital region MaaS service is already in operation in Helsinki, Finland, where MaaS Global has launched the Whim mobile app – initially for a limited group of test users. Whim, which will be released in Birmingham and West Midlands metropolitan area in spring 2017, will integrate public transport, rental cars, taxis, trains, bikes and more to take people door to door as easily as possible. It has proven immensely popular in Finland, with a growing list of users on the waiting list before next year's public launch.
Shaping tomorrow's transport together
The MoU commits all the signed parties to develop MaaS in West Midlands, with a shared goal to build an attractive, comprehensive and convenient service with long-term viability. Councillor Roger Lawrence, lead member for transport for the WMCA, see MaaS as a great idea to encourage people to consider how they get about other than with the private car.
"Mobility as a Service can transform how people get about this region and by doing so help free up our roads and tackle the scourge of congestion which costs this region billions of pounds a year," he says.
Pre-registration now open
Whim is planned to be launched in the West Midlands metropolitan area in early 2017. Pre-registrations to use Whim are now open on the Whim website at www.whimapp.com/uk.
About MaaS Global
We at MaaS believe it's time for transport to move on and get smarter. As the world's first ever mobility operator, we're set to make the biggest change in transport since affordable cars came to market.
Our aim is to provide people an alternative to owning a car – an alternative that is not just equally good, but much better. By fulfilling people's every travel need, complemented by attractive value added services, we are enabling a future of easy, efficient and sustainable mobility.