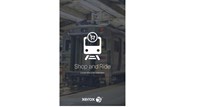 Mass transit riders in Hoboken now have an even greater incentive to ride public transit. Starting today, they can download the Shop and Ride app and begin receiving discounts, savings and special offers from merchants along their routes.
The Shop and Ride app, powered by Xerox (NYSE: XRX), delivers personalized, hyperlocal, mobile offers to transit riders based on their preferences and travel patterns. Beacon technology placed in local bus shelters and at merchant sites communicates with the app so users are notified of existing offers in the area or at a particular store. With a single touch, riders can save a coupon to redeem it immediately or at a later time.
Merchants also benefit from the app. They share two mobile offers per week with Shop and Ride app users. Xerox provides the merchants with real-time tracking of deal conversions and anonymized data – such as the number of users who save, open and redeem the coupons. This allows merchants to make data-driven decisions based on which offers resonate most with consumers.
"Hoboken is the ideal place for us to test the Shop and Ride app because of its size, its more than 200,000 transit riders, the number of area merchants and proximity to New York City," said Chris Holmes, vice president, mobile commerce solutions, Payments and Public Sector, Xerox. "Our research shows that riders want offers for food, shopping and entertainment based on their likes as they travel. Shop and Ride was developed with this in mind so deals are timely, relevant and readily available."
Xerox is working closely with AR James, a local transit advertising agency, to connect with local merchants and bring the Shop and Ride app to Hoboken.
"This app is part of a new wave in advertising innovation," said Jim DeLucia, CEO of AR James. "The endeavor with Xerox takes our successful approach to advertising in transit shelters and stations to a new level, connecting riders and their mobile devices through the use of beacon technology."
Xerox is currently working with 35 merchants in Hoboken to extend deals to New Jersey Transit riders. The list of merchants is expected to grow to at least 60 by the end of the summer.
The Shop and Ride app is now available for download in the Apple store.
The app grew out of research conducted at PARC, A Xerox company, working in concert with other Xerox research and development efforts helping transportation customers integrate mobile technology into their offerings. Shop and Ride joins other Xerox urban mobility projects being deployed around the world. Earlier this year, Xerox launched Go LA, Go Denver and recently Go Bangalore to encourage multimodal transportation. These apps capture all available transportation options in the city and compute the shortest, cheapest and most sustainable ways to reach a commuter's destination.
Xerox is a leading provider of transportation technology services worldwide, including tolling, parking, mass transit and photo enforcement services, supporting governments in more than 30 countries.
About Xerox
Xerox is helping change the way the world works. By applying our expertise in imaging, business process, analytics, automation and user-centric insights, we engineer the flow of work to provide greater productivity, efficiency and personalization. Our employees create meaningful innovations and provide business process services, printing equipment, software and solutions that make a real difference for our clients and their customers in 180 countries. On January 29, 2016, Xerox announced that it plans to separate into two independent, publicly-traded companies: a business process outsourcing company and a document technology company. Xerox expects to complete the separation by year-end 2016.