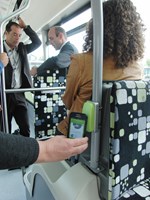 Xerox today announced the launch of the Xerox Seamless™ Transportation Solution, its next-gen approach to secure ticketless public transport payment by smartphone. The launch follows a successful nine-month pilot of the technology with the local transport authority Valence Romans Déplacements (VRD), in the city and area of Valence, in south eastern France.
"Almost immediately after first demonstrating Xerox Seamless at UITP Milan 2015, we began the pilot with VRD to test and continue the development of this innovative solution," said Jo Van Onsem, group president, International Public Sector, Xerox. "Based on patented Xerox technology, Xerox Seamless can be used for all kinds of services including trains, buses, trams, park-and-ride facilities and carpooling, making it attractive to a broad range of operators and travellers."
How the system works
Operators simply install Near Field Communication (NFC) tags provided by Xerox on their transport network. The user downloads the app onto their NFC-enabled smartphone and registers with Xerox Seamless to activate their account. To travel they simply tap their smartphone on any Xerox Seamless NFC tag. During the tap the tag creates and stores an encrypted transaction and relays it to the smartphone. Billing is processed automatically at the end of the month, based on the number of trips completed on the various transport providers.
The solution is universal. Designed independently of SIM cards and compatible with all mobile phone operators. It can be installed quickly and easily by both the transportation operators and the user while offering the same security guarantees as conventional contactless ticketing.
"Xerox Seamless was very easy to deploy and we've been extremely satisfied across the board – at the regional council level and at the level of the transport operator," said Marylène Peyrard, president of Valence Romans Déplacements. "When we asked travellers about their experiences using the new system, 90 per cent said that they were satisfied."
A Mobility as a Service (MaaS) business model
In exchange for receiving a fee for the services provided, Xerox supplies transport operators with the NFC tags and app, and operates the complete service, including the back-office system that handles:
Integration of data required to process fares

Customer service and billing

Reconciliation of the fares/services processed for affiliated transport operators/service providers.
Integrated trip planner
The Xerox Seamless app can be integrated with the Xerox Mobility Companion, an innovative travel solution that interfaces with the systems of different transport operators and providers in a city or region to offer citizens door-to-door trip planning. The solution combines all available travel options such as bus, train, tram, bicycle and car sharing. Together, Xerox Seamless and the Xerox Mobility Companion provide the single account based service and planning and information to enable users to enjoy mobility using MaaS principles.
Xerox Seamless will be available from July 2016 with installation starting in early 2017.
Xerox Seamless will be demonstrated on Xerox's stand (C74) at the 11th ITS European Congress, taking place at the Scottish Exhibition and Conference Centre (SECC), Glasgow, June 6-9, 2016.
For further information on Xerox at the ITS European Congress visit: https://www.xerox.com/en-gb/services/transport-solutions/insights/its-european-congress-2016
About Xerox
Xerox is helping change the way the world works. By applying our expertise in imaging, business process, analytics, automation and user-centric insights, we engineer the flow of work to provide greater productivity, efficiency and personalisation. Our employees create meaningful innovations and provide business process services, printing equipment, software and solutions that make a real difference for our clients and their customers in 180 countries. On January 29, 2016, Xerox announced that it plans to separate into two independent, publicly-traded companies: a business process outsourcing company and a document technology company. Xerox expects to complete the separation by year-end 2016. Learn more at www.xerox.com.
Xerox's European public transportation and fare collection centre of excellence is located in Valence, France.