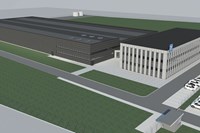 ZF Global Electronics will expand its manufacturing footprint to Eastern Europe to meet increasing European demand and continuously improve its competitiveness while supporting ZF's goal of Vision Zero through the production of advanced safety electronics. The company is also expanding its engineering capabilities to further support significant growth in this area.
Located in Czestochowa, Poland, the new plant will support all active and passive safety product lines including advanced camera generations for active safety and occupant safety electronics such as airbag control units.
The new facility will be operational by end of 2019 and will employ more than 300 people when at capacity.
Additionally, ZF has recently expanded its electronics engineering group with the opening of a new technical center in Lodz, Poland. The center officially opened in October and will house 200 highly skilled engineers and technicians. The center will house both offices and electronics labs in addition to the existing electronics engineering center in Czestochowa, which was established over a decade and has approximately 350 employees.
Christophe Marnat, acting executive vice president of operations for the Active and Passive Safety Division Global Electronics product line said, "The new engineering center and manufacturing facility will represent the state-of-the-art in safety electronics production and engineering and supports our growth in the advanced safety and automated driving fields. It builds on our established seat belt and airbag operations and the electronics technical centers in Czestochowa and further establishes our manufacturing and engineering footprint to satisfy our global customers."
ZF employs a total of 8,000 workers in Poland and, of those, roughly 6,300 work in production and administration in the existing Czestochowa facilities. The location is also responsible for the production of airbag modules and seatbelts.