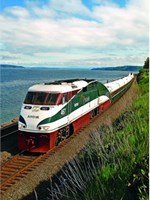 Zipcar, the world's leading car sharing network, The Oregon Department of Transportation (ODOT) and Amtrak Cascades today announced the launch of "Zip and Ride," a partnership to locate Zipcars within walking distance of three Amtrak train stations (Portland Union Station, Salem Station, and Eugene Depot) and promote more connected, cost-effective travel options for train riders.
The "Zip and Ride" program allows anyone using the Amtrak Cascades service to use a Zipcar to and from destinations, in concert with train service. This combination helps avoid traffic headaches and parking stress while taking advantage of special "Zip and Ride" membership and reservation rates at Amtrak stations in Eugene, Salem and Portland and throughout the Portland area. Amtrak Coast Starlight passengers can also take advantage of this program at all three stations, and Amtrak Empire Builder passengers can do the same at Portland Union Station. Uses include:
Government employees commuting or traveling for meetings between Eugene, Salem and Portland for work can take the train to their destination, then pick up a Zipcar at the train station and drive around town for meetings or site visits.
Local business employees can travel to work via train, then reserve a Zipcar to run supplies between offices or meet with clients. Zipcar has vehicles of all shapes and sizes to meet every trip's needs.
Bike commuters can board Amtrak Cascades with their bikes, then reserve one of Zipcar's Yakima bike rack-equipped vehicles to complement their trip.
"Oregon is a national leader in sustainable and innovative transportation, and this partnership provides yet another 'green' option. Drivers can avoid I-5 congestion and take Zipcar for convenience and flexibility at their destination, all while enjoying free time and comfort on the train with Amtrak Cascades' bistro and free Wi-Fi service," said Hal Gard, Administrator for ODOT's Rail and Public Transit Division.
"Our 'wheels when you want them' service is a true complement to the Amtrak Cascades line," said Jeremy Nelson, Zipcar Portland general manager. "The 'Zip and Ride' program will enhance the quality of life for Oregonians by making it easy and affordable to get out and experience all that the state has to offer."
Zipcar gives its members on-demand access to a fleet of 12,000 cars in hundreds of cities, as well as colleges and university campuses worldwide and major airports throughout North America and in Europe. Zipcars are available 24/7 for reservation by the hour or by the day via Zipcar's mobile app, online, or over the phone.
Prospective members can join the service instantly on Zipcar's mobile app, and Oregonians can now take advantage of special "Zip and Ride" membership and reservation rates. For more information on "Zip and Ride," visit www.zipcar.com/zipandride.
Amtrak Cascades operates four daily round trips between Portland and Seattle; two daily round trips between Seattle and Vancouver, British Columbia; and two daily round trips between Portland and Eugene, Oregon.
About Zipcar
Zipcar is the world's leading car sharing network, driven by a mission to enable simple and responsible urban living. With its wide variety of self-service vehicles available by the hour or day, Zipcar operates in urban areas and university campuses in over 500 cities and towns across Austria, Canada, France, Germany, Spain, Turkey, the United Kingdom and the United States. Zipcar offers the most comprehensive, most convenient and most flexible car sharing options available. Zipcar is a subsidiary of Avis Budget Group, Inc. (Nasdaq: CAR), a leading global provider of vehicle rental services. More information is available at www.zipcar.com.