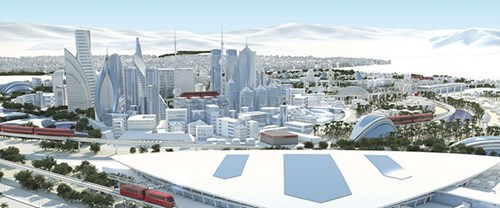 Most of us love cities. As the hubs of commerce and culture, cities naturally attract people. Today more than 50% of the world's population lives in or around a city. By 2050, this number is expected to reach 70%. The implications are profound. Cities already generate 70% of energy-related greenhouse gas emissions. Imagine their impact on climate change by 2050!
That's why our cities urgently need to evolve and become part of the solution to climate change. International conferences like Ecocity World Summit 2011 are nudging urban environments in this direction. So are the CO2 emission reduction targets made by a growing number of cities and countries around the world.
Tomorrow's smart cities will redefine sustainability and liveability. Transportation systems that are efficient, environmentally friendly and move hundreds to thousands of people quickly, comfortably and affordably to their destinations will be a defining feature of many of the new ecocities.
Megatrends drive 'rethink' in mobility planning
Tenacious and troublesome megatrends are forcing experts to rethink
urban mobility planning. These trends include:
Growing urbanization, urban populations and traffic congestion
Climate change
High inner-city real estate values combined with limited land availability
Short on land...
Inner-city real estate is expensive and scarce. In our automobile-dependent cities, we've already handed over so much valuable space to these vehicles. The challenge is to optimize urban land use by implementing an integrated and highly efficient mobility infrastructure. Public transit solutions use significantly less land while moving an exponentially greater number of people than the automobile.
Even shorter on time...
Commuting by car not only creates significant pollution, it also wastes precious hours and creates endless frustration. Even if you drive an electric or hybrid car, you still lose time sitting in traffic jams. In contrast, transit systems bypass road congestion while passengers read, work and play with their smartphone. They also give you more time to spend with your family and friends or... even exercising!
But big on urban sprawl
Cities either spread out or rise up, and if they're big enough, they often do both. Whether population density expands vertically or horizontally determines which mode of transportation makes the most sense.
In a mixed-use use urban area, people can walk to the grocery store and take the metro to the movies. In suburban residential and commercial areas, you need a car to go the mall. The available transport infrastructure shapes people's lifestyle and transportation habits. And it all boils down to the fact that people's transport behaviour is driven by convenience.
Why integration is so important
The challenge for cities is to integrate the different modes of transport — rail, automotive, bicycle and walking — into one convenient, easily accessible, time efficient, affordable, safe and green system. An integrated systems approach optimizes infrastructure and energy consumption and provides transportation for city residents exactly where and when they need it.
Imagine a city where all vehicles are electric powered, emission free and even use the same infrastructure. That's convenient and sustainable mobility at its best.
Smart mobility for smart cities
The latest mass transit and e-mobility technologies blend flawlessly into city infrastructures — from monorail and metro systems running through buildings, at-grade, elevated or underground, to new solutions for electric vehicles. These attractively designed mobility solutions support the urgently needed shift in thinking from traditional transport modes to electric public transport. They also deliver a smaller environmental footprint and optimize land use.
Integrated sustainable mobility is achievable today
At Bombardier, our solutions integrate seamlessly into a city's multi-mode transport infrastructure. One of our key strengths is combining our global experience with local knowledge to deliver the 'best-fit' mobility solution to cities worldwide. Here are some of the solutions that forward-thinking cities are embracing today.
ECO4 technologies : Our ever-expanding portfolio of energy-saving technologies improves total train performance while protecting the environment.
INNOVIA Monorail 300 : Fully automated and driverless, this beautiful next-generation monorail enables cities to rapidly deliver convenient, high capacity mass transit.
INNOVIA APM 300 : Driven by the latest APM technology, our rubber-tired systems operate at grade, in tunnels and completely elevated for exceptional route flexibility.
INNOVIA METRO 300 : Filling the gap between trams and metros, this highly flexible driverless solution runs on dedicated guideways and moves more than 30,000 passengers per hour per direction.
PRIMOVE : Our ground-breaking zero-emission e-mobility solution addresses the range and recharging constraints of all rail and road vehicles.
MOVIA : These high tech, high capacity metros deliver rapid, reliable and cost-effective urban transportation.
FLEXITY 2 : Our next-generation, low-floor tram marks the dawn of an exciting new era in public transit.
SPACIUM : Our latest commuter train offers a radically new design, providing both comfort and capacity in a passenger-focused, highly futuristic single-deck concept.
As you can see, many sustainable mobility solutions are here today. Many more are yet to come. At Bombardier, we're already busy developing them. We're working with progressive urban planners around the globe to help shape the ecocities of the future.
About Bombardier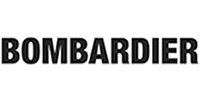 As the world's leading manufacturer of both planes and trains, we've built an extensive and diverse portfolio of winning mobility solutions. Everywhere people travel by land and in the air, a Bombardier product is ready to transport them. From category-defining business jets and commercial aircraft designed for the challenges of today, to sleek high speed trains and public transit that's smarter than ever.
But it's not just our products and services that make us a global leader. The most important success factor is our employees, all 74,000 of them. Together we're focused on making mobility more efficient, sustainable and inviting than ever before. We call it The Evolution of Mobility.
Bombardier is headquartered in Montréal, Canada. Our shares are traded on the Toronto Stock Exchange (BBD) and we are listed on the Dow Jones Sustainability World and North America indexes. In the fiscal year ended December 31, 2014, we posted revenues of $20.1 billion.