To support data services for urban rail transit that includes train traffic control, train maneuvering, onboard Passenger Information Service (PIS), and video monitoring, Huawei offers an LTE-based solution that overcomes the limitations of previous technologies:
Legacy communications systems run on separate networks, resulting in high costs and complex Operation and Maintenance (O&M)
Communications-Based Train Control (CBTC) signals are vulnerable to interference
A Wi-Fi AP's range is only 219 yds (200m), so trains moving at 75 mph (120 km/h) cause frequent handovers, degrading user experience
Huawei's LTE solution eliminates these issues with dual-network communications on dedicated frequencies; unified long-distance train-ground communications; and multiple services over a unified transmission network.
Unify communications with high-redundancy wireless coverage
Huawei's LTE-based solution ensures reliable communications using a dual-network architecture and redundancy designs at the system, device, and board levels. The use of dedicated-frequency LTE networks and technologies such as Interference Rejection Combining (IRC) and Inter-Cell Interference Coordination (ICIC) enhances the network's anti-interference capability.
Unified train-ground communications simplify maintenance
Huawei's LTE network provides long-distance coverage, reducing the number of devices that are needed in complex environments such as tunnels. A uniform network management system for network and terminals simplifies the system O&M. In addition, no network devices are needed in tunnels, further simplifying network O&M. A single network supports multiple services, including CBTC, PIS, trunking, and CCTV. The LTE solution ensures network reliability and QoS of critical services using multiple schemes such as radio link budget, 9-level QoS, and a backbone transport network protection switching time less than 50 ms.
LTE networks carry multiple services for high-speed trains
The Huawei Mass Transit eLTE Multi-Service Unified Carrier Solution offers a highly reliable train-ground convergent communication platform supporting high-speed trains. The LTE train-ground communication system supports 80 Mbit/s throughput for trains traveling at speeds as high as 268 mph (431 km/h). With this solution, a unified network carries multiple services, improving operating efficiency and reducing both network construction and O&M costs.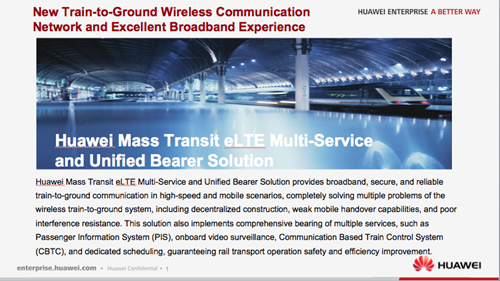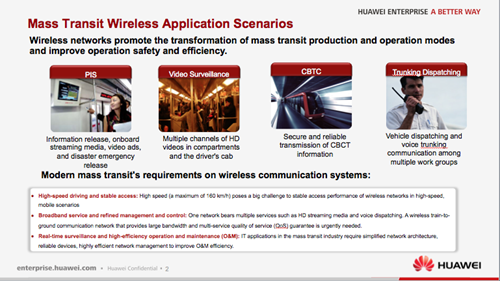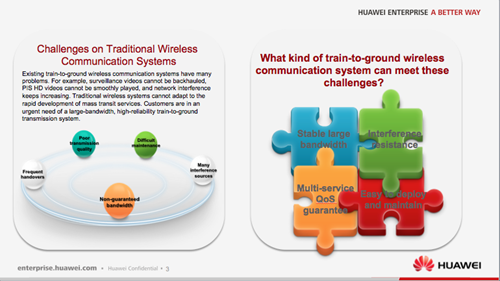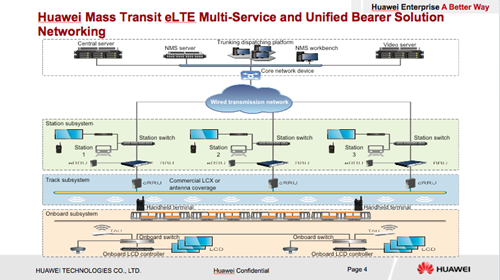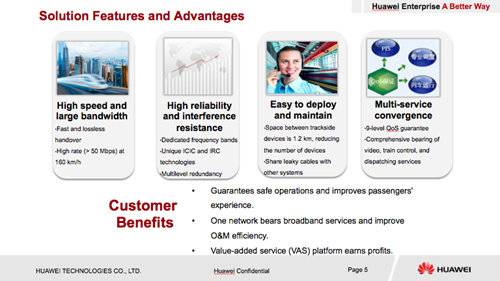 About Huawei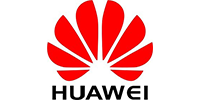 As a leading ICT solutions provider, Huawei is committed to providing innovative and customized products, services and solutions to create long-term value and growth potential for its customers. Together with partners, Huawei offers solutions for vertical industry and enterprise customers globally including government and public sectors, transportation, power grids, energy, and finance, as well as commercial enterprise in many fields. These innovative and leading solutions cover network infrastructure, UC&C, cloud computing & data center, and industry application solutions. Through continuous customer-centric innovation, Huawei have established end-to-end advantages in Telecom Network Infrastructure, Application & Software, Professional Services and Devices.
With comprehensive strengths in telecommunication technologies, Huawei has gained a leading position in the All-IP convergence age including solutions in railway communications where a number of advanced Huawei's ICT solutions were selected along 78,000+ km of railway lines globally. Huawei's ICT solutions cover rail-operational voice and data communication (GSM-R) as well as non-operational communication such as LTE, CCTV, transmission networks, WIFI just to name a few. With the continuous investment and innovation in the ICT area, Huawei, the fastest growing global mobile supplier, has become a reliable partner for many railway operator and top-tier system integrator.