The electronically Interlocking System ZSB 2000 - Just to make sure
Since the beginning of railway age trains rank among to the most safety transportation systems. For correctly securing of tracks is the interlocking system in regards of the signalling technique important. The electronically interlocking ZSB 2000 and their electronically field components like,
LED signals for train signal, (combinations-, main-, advance-, multi section-, shunting signals, ...)
universal-dot-matrix for auxially signals
AZSB 300 axle counter

We can also proudly present everything, in spite of the very compact construction method, which is essentially necessary for a modern signalling operational management. The clear separation of hard- and software and its modularity, provides a flexible and economically commercial solution.
This solution is usuable for main lines and branch lines for Integrated Electronic Control Centre (IECC) operations as well. Apart from the main tasks of controlling and supervision of train movements we are able to realise not typically interlocking functionalities (e.g. passenger information, switch point header, train station acoustic and -lighting, ...) with our railway concepts, too.
Download: Interlocking System ZSB 2000 (pdf)
About Scheidt & Bachmann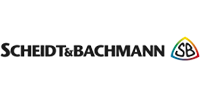 Global mobility is today one of the important economy factors. To fullfill these demands, infrastructure operators need competent partners. Scheidt & Bachmann is one of the most successful manufacturers and has more than 130 years of experience in regards to signalling technology. Based on network capable and computer controlled systems we provide complete track concept systems. The
electronic interlocking System type ZSB 2000 and the
electronic level crossing system type BUES 2000
are flexible and cost optimized platforms of signalling technology. The ZSB 2000 and BUES 2000 systems are realized on a standard hardware platform. Both signalling systems are networked to a centralized control and supervision concept. The individual field elements
railway signals, (main-, advance-, multi section-, shunting signals-, ...),
additional signals,
supervision signals,
road signals (light points or flashing lights in yellow/red/white, green ...),
acoustically warning devices
axle counter,
train detection technology,
barrier drive,
obstacle detection supervision
communicate via modern CAN-Bus interfaces which also can control and supervise communication between ZSB 2000 and BUES 2000.
In the frame of planning and realisation of railway signalling projects Scheidt & Bachmann will stand with its competent and qualified staff at your disposal.