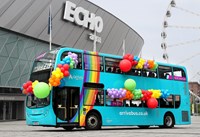 To celebrate PRIDE awareness month in June, Arriva has unveiled the bus, complete with a giant rainbow to show its commitment to the LGBT community.
Lucky passengers travelling in Merseyside will be able to board one of two new pride buses that will operate on various routes this summer.
Lisa Pearson, Head of Marketing commented: "Arriva is committed to promoting equality and diversity both inside and out of the workplace, and so we are extremely proud to be supporting the LGBT community with our newly designed rainbow buses."
"We hope that the bright rainbow design will bring a smile to the faces of all those who board the bus, and we'll be keeping our fingers crossed that we can spread the cheer even further at a series of exciting events this summer."
To further show its commitment to the cause, Arriva has set its sights on taking part in the Liverpool (28th - 29th July) & Manchester (24th - 27th August) PRIDE celebrations with its newly designed buses.
About Arriva
Thank you for travelling with Arriva. We welcome customers from all the communities that we serve. Here we outline the quality of service we promise to deliver to you:
We aim to ensure that you have a safe comfortable journey on a clean, well-maintained bus.
The route number and destination will be clearly displayed at all times
Your bus will be driven by a professionally trained driver wearing our uniform
We will always endeavour to be helpful, courteous and treat people with respect
We are committed to providing a range of good value tickets so that you can choose the one that suits you best
We will make it easy for you to tell us what you like or don't like about our services – please contact Customer Services
We try to run all our buses on time but, if your service leaves early or is more than 5 minutes late and we are to blame, please contact Customer Services
Where factors outside our control such as traffic congestion, roadworks or extreme weather affect your journey, we will keep you informed as soon as possible so that the impact on your journey is minimised