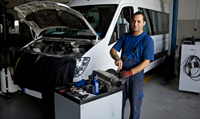 Warranty is one of the transit industry's dirty secrets. Most transit agencies are generally supportive of good warranty management as an ideal, but few have the systems and business practices to effectively execute a warranty program. That means thousands of dollars are slipping through your fingers every year due to unrecovered warranty claims.
Warranty coverage attaches at the time of purchase to an overall asset, components, and/or individual parts of a product. Warranties may have different rules, conditions, and claims processes, but the premise is always the same regardless of whether you're dealing with a traction motor, gear box or air-conditioning unit: the product will perform at a certain standard for a minimum length of time. If the product fails to do this, repair or replacement will be at the expense of the supplier.
Many transit agencies pay for repairs on items that are actually covered by transit agenciesfor a few reasons:
Either they simply don't know a warranty claim is available (and they may even be paying for additional coverage and still not make use of this coverage)
Or a claims process is so complex and arduous that it feels as if it simply costs more time and effort to make the claim and they'd rather pay for the costs of minor repairs themselves
Luckily, there are ways to implement a comprehensive warranty process so that you always know if your assets are covered and it's not too cumbersome that it deters you from going through the claims process in the first place. The end result being you can save money on asset repairs and allocate that funds elsewhere, making an immediate impact on your bottom line.
How much do you lose if you don't claim your cash?
The Gartner Group report on Enterprise Asset Management (EAM) found that a modern EAM system can conservatively increase warranty recovery by 50%.
Very aggressive warranty recovery using advanced, automated warranty claim recovery processes can yield even higher increases, with the rail industry "gold standard" being 1-2% of the initial asset purchase price. That's a lot of cash to miss out on.
However, it's hard to manage something you can't easily monitor. Considering the sheer volume of assets, vehicles, and components transit agencies own and operate, it's not surprising that they may have trouble with warranty recovery. In fact, without proper record-keeping, it's impossible to calculate the potential savings from utilizing warranties – let alone to actually make those savings.
Letting warranties overwhelm your staff invariably results in financial losses for repairs that you're paying for – but shouldn't be. Even companies who are tracking expenses may not be aware of missed reimbursement opportunities if the information is hidden away in filing cabinets or hard-to-access spreadsheets. Knowing exactly where each asset and component is in its warranty period and how to quickly lodge a claim can result in significant cost savings.
Getting warranty claims right
The key to effective warranty recovery lies in this "three-legged stool" analogy. You need all three (people, process, and system) to be in place, or else the stool will tip over.
The "system" you need is an EAM solution with automated warranty claim functionality. Tools alone aren't enough, which is why the "people" come into play – you need to dedicate part of (or all) of someone's job to be a trained Warranty Administrator. If you're a large agency, you might have a dedicated team for warranty recovery (getting warranty reimbursement will practically pay for their roles, and then some). The "process" is for your warranty team to utilize the claim data captured by your EAM system to get reimbursement from your vendors.
In an ideal world, here's what that looks like. As soon as an asset or component breaks, the EAM system would alert the owner and maintenance team to the warranty status and have immediate access to the claim process details. In reality though, we know that when a fault occurs, your focus is on getting the repair done as soon as possible and getting operations running again. Searching through a folder of warranties is simply not a priority when things break.
So how do you focus on fixing the problem at hand, while also keeping warranty coverage top of mind?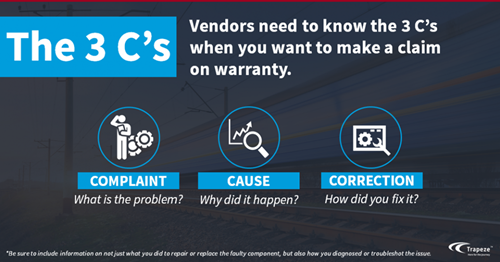 This is where a tailor-made for transit software can make a significant difference, because when your EAM system is built specifically for transit, it not only keeps track of valid warranties, but also simplifies the claims process by incorporating advanced features. For example, it should be able to document all corrective maintenance activity with the three Cs (complaint, cause and correction) – bonus points if your internal codes can be mapped to the vendor's own three Cs coding convention. This standard approach means all warrantable work order data can be easily translated into the coding "language" that your suppliers require to quickly process your warranty claims.
The Trapeze EAM software was designed for the complexities of a public transit agency and streamlines the process between a fault occurring, repairs being undertaken, and the warranty claim being completed. By recording asset, component, and parts details with their warranty information inside a centralized system, the user is immediately notified if a warranty applies when a fault occurs.
For example, a work order for repairs on a warranty-covered item will automatically trigger a claim notification. From here, the reimbursement claim can easily be created and submitted for payment from the same screen.
With this system in place, businesses will notice quick wins and immediate differences in the claims management process. Inefficiencies in the maintenance and materials departments can be corrected by managing warranty administration within the EAM system.
Getting a warranty administration system in place
It's easy to manage the warranties for products in your home – you know roughly when you bought your iPad and if it's still under Apple Care. But when you're managing the assets of a transit agency that offers service to millions of riders a daily, it's simply not feasible to keep that information on paper, in binders, or amongst a few different people.
If you forget about a warranty for a product at home, that might mean a loss of a few hundred bucks. Significant, but if you're not tracking warranties for a transit agency, you're looking at a potential loss of thousands or hundreds of thousands of dollars – and when funding is hard to come by, this is an easy way to recoup some costs.
When it comes to business, the bottom line counts. Missed opportunities for refunds are an easily avoidable expense with the right tools in place.
Learn how your peers are managing assets across their agency. Check out how Hillsborough Regional Transit Authority recently transformed their manual part request process into an automated, electronic process to improve operations and ensure they had the right parts to keep their vehicles on the road, or attend ThinkTransit: The Trapeze Technology Conference to learn directly from your peers in10+ sessions on EAM.
About Trapeze Group
Trapeze Group's passion is enabling you to meet your goals. They create, deliver and support software solutions and services that make it easier for transportation agencies to manage their complex, day-to-day business operations. They have the unique ability to partner with you for the full 360 degrees of your operations due to our focus on serving the transportation industry with a broad product portfolio.
From the bus stop to the finance department, Trapeze technology is the glue that binds a transportation agency together. They are dedicated to helping you streamline and integrate your many day to day functions. Enabling you to focus on your #1 goal, providing amazing customer service!
Their team gets what you do. The reason why? Is because they have been in your shoes! Many Trapeze employees have been in the transportation business for decades! They know what your pain points are and are passionate about helping you eliminate them and meet your goals, as well as those of your board members.
With their passion and knowledge, they are excited to partner with you to maximize the value of your systems for the long term.