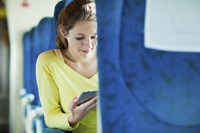 The internet; it brought us social media: an invention that drastically changed the way we communicate. Already millions of people are connected with each other through Facebook, Twitter and LinkedIn . This is no surprise, but have you heard about 'the Internet of Things'?
Nowadays technology has evolved to a point where not only humans are able to connect to each other online, but objects are able to do so as well. But what are they doing and what does this have to do with mass transit?
Making a network of objects that all 'talk' to each other makes it possible to provide services a lot quicker than humans would be able to.
Imagine a bus service that automatically knows when extra busses are needed due to an unexpected crowd (after a concert or a sporting event). It can make arrangements for extra subwaytrains, busses or trams in the blink of an eye, way faster than any human could.
It can even provide travellers with real-time information about their travel-route on their smart phones. The internet of things is the future of public transportation and is already being used in London where it yields great results.