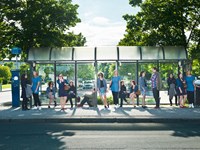 We must all love trees. They produce oxygen, they provide shelter, cooling on a hot day and - as research shows - a walk in the park even positively changes the brain.
But what about waiting? Do you also hate waiting at a bus stop? Try looking for a tree-lined bus stop and make it a more pleasant stay that feels much shorter!
According to a study by the University of Minnesota the perception of waiting time is effected dramatically by the presence of leafy trees.
Research already shows that wait time perception is highly subjective, but up till now little research existed on the influence of surrounding environment on transit users' perception of wait time.
Travelers at 36 transit stations and stops were asked to note their perceived wait time and this data was then set off against actual wait times, observed through video.
Over 800 single recordings were identified as valid for use. This data was subsequently processed with environmental factors like degree of (heavy) traffic and presence of trees to see how these factors affected wait time perception.
Improving perception is an important point of attention with possibly lower costs than measures focused on the reduction of actual wait times. Local authorities and transit providers should closely work together on this, as highlighted in the document:
Planting trees around stops offers local authorities an opportunity to significantly improve users' wait time perception, but falls outside the purview of transit providers themselves.
The ability of the presence of trees to compensate for the negative effects of pollution and traffic suggests that planting trees or moving a problematic stop to take advantage of existing tree cover can significantly improve the user experience at reasonable costs. These costs should be compared to other costs of measures able to enhance customer satisfaction such as higher frequency, transit information and stops amenities.
Let's root for a green urban environment. We've already seen plants on busses in the Bus Roots project. So as a follow up to this recent research we might see plantation inside of public transport as well, who knows.