Bearings, units and housings

SKF started with an innovative bearing, and to this day is still a world leader in the design and manufacture of rolling and plain bearings. Here you will find our full assortment, including a wide variety of bearing units and bearing housings.
Bearings
SKF manufactures virtually every type of ball and roller bearing. Many are available in more than one of the four SKF performance classes:
SKF standard
SKF Explorer
SKF Energy Efficient
SKF super-precision
A wide assortment of plain bearings, rod ends and bushings are also available.
The design and material variants for these bearings are quite extensive.
Bearing Units
SKF bearing units typically consist of a bearing, seal, lubricant and shaft locking mechanism. The units are preassembled and adjusted at the factory. These ready to mount units are available with either ball or roller bearings.
In addition to standard all steel units, SKF has more focused standard products – which target a particular industry – like the food, beverage and pharmaceutical industries where, for example, special materials, lubricants, seals and housings are needed.
Bearing Housings
To accommodate the high performance characteristics of SKF bearings, SKF designs and manufactures a full line of bearing housings and housing seals. These housings and seals are well known for their quality and durability. In addition to their unique design features, which simplify mounting, alignment and relubrication, SKF housings are precision machined so that the incorporated bearing can realize its full service life.
Seals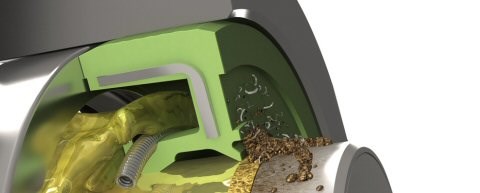 Sealing solutions customized for your system performance
Seals have a crucial impact on system performance. Life and reliability of what is often considered a simple component can make all the difference to your products and operations. SKF has more than 100 years of experience in various industries and applications, and is the only company that can support key aspects of the sealing system through its knowledge of bearings, seals, lubrication and associated science and technology. SKF offers expert advice and provides support throughout the life cycle of your sealing system.
Lubrication solutions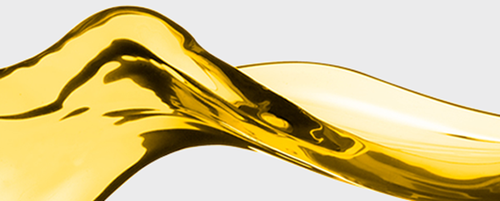 Did you know that poor lubrication causes about 36% of all premature bearing failures?
But with the right lubrication solution you can create new opportunities to increase uptime and productivity. Along with helping to reduce premature bearing failures and machine downtime, proper lubrication can increase energy efficiency. At SKF, we can help you realize the true potential of lubrication.
SKF lubrication solutions range from specialized lubricants to state-of-the-art lubrication systems. Integrated SKF lubrication solutions combine our expertise in bearings, seals and condition monitoring with our tribology knowledge – the study of friction, wear and lubrication.
You can also count on leading technical support and services. This includes lubrication management programmes to help with lubricant selection, planning and monitoring – all from a single, reliable partner.
Linear motion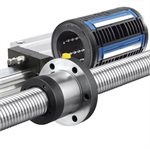 Linear motion products from SKF combine the knowledge and efforts of linear drive systems (ball and roller screws) and linear guides and tables.
Linear drive systems typically use screws to transfer rotary into linear movements. This requirement is well achieved by our high efficiency driving products: miniature and large rolled ball screws, ground ball screws as well as different variations of roller screws.
The second part of Linear Motion are linear guides and tables. The key know-how here is to find the most suitable guiding solution providing the needed accuracy, stiffness and positioning at the appropriate cost. To provide the best fit for your guiding needs, our comprehensive range includes linear ball bearings, profile rail guides, precision rail guides and linear tables and slides.
Actuation Systems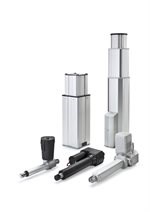 Mechatronics is the science of combining together mechanics, electronics and digital technologies into exciting new solutions. It is a rapidly advancing area that provides fantastic opportunities to solve old problems in a clever and environmentally friend way.
SKF has more than 400 engineers dedicated to this area.
By being at the forefront of this technology for many years, SKF has developed unique application knowledge in hardware and software.
In combining actuators, bearings, sealing, lubrication, sensors and electronics competences, we have been able to develop a number of standard and customized solutions. SKF offers a wide assortment of mechatronic products
Actuating your business with SKF
Our extensive experience and knowledge of actuation systems enable us to satisfy the most demanding requirements utilising linear actuators, telescopic pillars, rotary actuators, engineered actuation systems, control units and accessories.
Our competence dedicated to your success
No two applications are the same.
With SKF actuation systems, you can rely on products and services that are designed to meet the unique demands of your application and specific conditions
Magnetic bearings/PM motors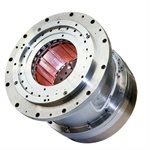 Rotating without contact
SKF S2M Magnetic Bearings leverage more than 35 years of leadership in active magnetic bearing technology.
The first compressor equipped with an SKF S2M Magnetic Bearing, commissioned in 1985, is still running. Since then, we have partnered with many of the world's largest and most advanced companies to harness the power of levitation to address the need for high speed and high reliability in the most demanding operating environments.
More than 120 000 turbo molecular vacuum pumps (primarily for the semiconductor industry) now operate with SKF S2M Magnetic Bearings/PM motor components. In addition, SKF experience includes more than 1 000 references in the oil and gas industry, including upstream, midstream and downstream processes. SKF is now pioneering the use of SKF S2M Magnetic Bearings for the first Natural Gas centrifugal compressors directly laid on the seabed at the Asguard subsea gas compression system in the Norwegian Sea.
With a worldwide presence, including 300 persons dedicated to servicing our customers, SKF is the world market leader in the development, manufacture and sale of active magnetic bearings and magnetic bearing control technologies. We look forward to working with your team.
By-wire
Improved response, safety and ergonomics
SKF offers innovative solutions in the areas of by-wire and mechatronics technology. These can bring many advantages over traditional mechanical solutions, including:
Improved response times - and reduced weight - by eliminating mechanical linkages
Increased safety through computer controlled intervention of vehicle controls
Better ergonomics by reducing the amount of force and range of movement required by the driver, and by greater flexibility in the location of controls. This flexibility also dramatically increases the number of options for the vehicle's design
Enables advanced vehicle functions with positive impact on productivity, comfort and safety which are not possible with the traditional mechanical solutions (i.e. automatic activation of a parking brake when vehicle is turned off, steering ratio variable with vehicle conditions, etc.)
Maintenance products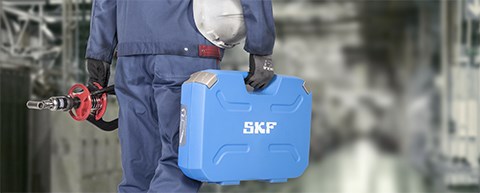 Help your bearing achieve its maximum service life
Every bearing has a certain service life potential. However, research has shown that, for various reasons, not every bearing achieves it. Important stages which have a major impact on a bearing service life can be recognised during the bearing's lifecycle. These stages are mounting, lubrication, alignment, basic condition monitoring and dismounting. The stages in a bearing life cycle are extremely important for achieving the maximum service life of the bearing. By applying the right maintenance practices and using the correct tools, you can considerably extend your bearing's service life and increase plant productivity and efficiency.
Condition monitoring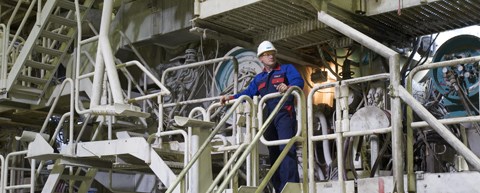 Condition monitoring is the process of determining the condition of machinery while in operation. The key to a successful condition monitoring programme includes:
Knowing what to listen for
How to interpret it
When to put this knowledge to use
Successfully using this programme enables the repair of problem components prior to failure. Condition monitoring not only helps plant personnel reduce the possibility of catastrophic failure, but also allows them to order parts in advance, schedule manpower, and plan other repairs during the downtime.
SKF @ptitude Asset Management System
The hardware and software components of the SKF @ptitude Asset Management System have been designed to work together seamlessly - with each other and with your facility's CMMS in one integrated platform. The system enables you to:
Integrate all machine condition data into one common programme
Share data seamlessly across functional lines
Avoid long learning curves and software platform compatibility issues
Replicate your success at other facilities
Power Transmission products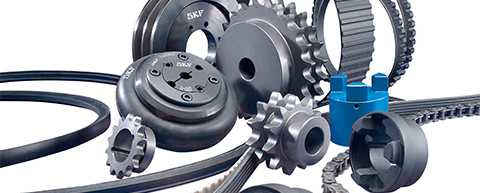 SKF Power Transmission is a product line that provides a complete range of high quality belts, chains, couplings, pulleys, sprockets, bushings and hubs.
Required in virtually every industry, power transmission components enable processes to run by connecting moving parts in machinery.
Coupling systems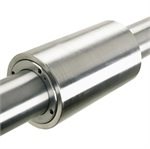 SKF has a vast portfolio of various types of coupling systems to meet each customer specific requirements from standard products to highly tailor made solutions.
The powerful SKF oil injection method is applied to SKF various types of rigid OK couplings, Supergrip bolts, hydraulic rings and nuts, as well as Flexible couplings offering our customers substantial savings in downtime for all industries and applications where they are used.
Test and measuring equipment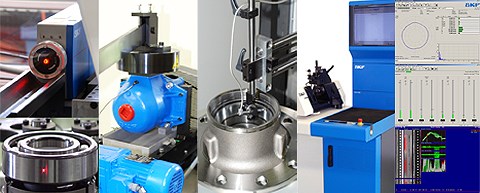 As a major engineering company, SKF needs to make sure that it provides products and services that meet its own high standards. Measurement and quality-assurance systems, based at our own Condition Monitoring Centre for test and measuring equipment (CMC-Steyr), have provided the means to do that for the last 25 years.
Today, we offer the same capabilities to customers. SKF develops and supplies the latest technology and instrumentation, designed to gauge compliance with each customer's defined goals. A full range of measurement approaches fulfill the quality assurance needs of manufacturers of high precision round parts and related products, as well as grease testing for the grease industry.
SKF also works closely with other specialists, if required. Installation, setup, training (on or off site) and extensive follow-up activities are all part of the services supplied. In addition, SKF offers a range of gauges to check tapered shaft journals or the radial internal clearance of cylindrical roller bearings. They are designed to meet the requirements of high-precision technology, especially in machine tool and spindle manufacturing and spindle repair services.
Technology and measurement approaches include:
Waviness, roundness and form analysis
Noise and vibration testing for bearings
Dimension testing
Optical inspection
Non destructive testing
Grease testing machines
SKF Vehicle aftermarket
Drawing on its experience as an OE supplier to car manufacturers around the globe, SKF Vehicle Service Market deals with the aftermarket for cars and commercial vehicles all over the world.
Our concept is to offer high quality products and premium services to our customers, whether your profession involves maintaining vehicles or supplying products to those who do.
Our range of products and services is the result of relentless innovation and constant improvement in the design of all critical components, from engines and electronics to driveline and wheel-end systems. SKF continues to take part in the on-going endeavour in developing its services and state-of-the-art products.