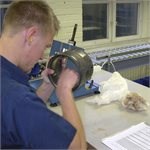 Certification means that SKF can supply rail customers, such as rolling stock companies (ROSCOs) without the need for extra auditing and assessment.
SKF (U.K.) Limited has become an accredited supplier under the Railway Industry Supplier Approval Scheme (RISAS).
The aim of the scheme is to ensure that duty holders and other major customers, such as ROSCOs, are able to rely upon common third party assessments by accredited RISABs (Railway Industry Supplier Approval Bodies). RISABs assess the adequacy of key suppliers' procedures, practices and competence to manage risks which arise from the specialist nature of railway industry applications.
RISAS provides an economy of scale to the railway industry by reducing duplication in the auditing and assessment of suppliers of critical goods and services for the overhaul of assets and components. It sets out to ensure that suppliers of critical products to the railway industry have the appropriate systems, processes, competence, resources, facilities and procedures in place.
"We are an established rail industry supplier, and were encouraged to apply for RISAS certification by some of our long-standing customers," says Greg Waller, Railway Service Centre Manager at SKF in Luton. "We are the first bearings company in the UK to receive this accreditation."
SKF is now certified to carry out maintenance and repair – supplied from its Luton headquarters – in five product areas: for wheelset components, it is certified for axlebox bearings, axleboxes and suspension tubes; for suspension components, it is certified for axleboxes; for gearcases it is certified for suspension tubes; for axleboxes and axlebox bearings, it is certified is for bearing overhaul and repair; and, for suspension tubes, it is certified for the procurement and supply of new and refurbished suspension tube cases.
The certification was awarded to SKF by railway industry supplier approval body (RISAB), SGS UK. "The identification and traceability of components seen throughout the overhaul process was very well established and comprehensively implemented," commented Jason Edmonds, Rail Operations Manager at SGS UK, "Housekeeping and process control throughout SKF's workshops were seen to be robust and well managed." SGS is the world's leading inspection, verification, testing and certification company.
The SKF Railway Service Centre in Luton offers a range of services, including: temperature-controlled inspection and measurement; a large working area for cleaning and assembly; cleaning and regreasing sealed bearings with non-standard greases, for special conditions; and a refurbishment service for tapered roller bearings.
About SKF
SKF has been a leading global technology provider since 1907. Our fundamental strength is the ability to continuously develop new technologies – then use them to create products that offer competitive advantages to our customers. We achieve this by combining hands-on experience in over 40 industries with our knowledge across the SKF technology platforms: bearings and units, seals, mechatronics, services and lubrication systems. Our success is based on this knowledge, our people, and our commitment to SKF Care principles.