Ultra-long rails
The triumph of the ultra-long rail

voestalpine was the first company in the world to recognize the superior customer benefit potential of ultra-long rails and to implement it in terms of product and production technology after several years of pioneering work. With the knowledge they lower the welding expense and maintenance cost and last but not least reduce weld-induced track defects, ultra-long rails have already become the standard laying length in many countries.
Nevertheless: with a weld-free supply length of 120 m for land transport and up to 60 m for sea transport (depending on the capacities of the port of destination) voestalpine's offering is still unsurpassed.
Heat treated rails (HSH®)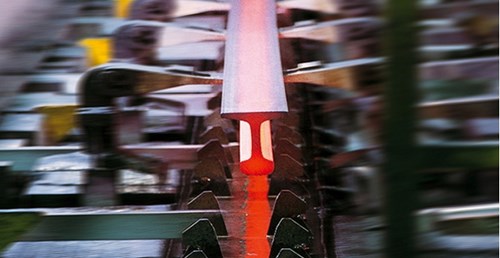 Based on the technological experience gained over decades and our particular life-cycle cost competence we are and remain ahead of the competition.
Not only that we can heat-treat practically any, even most complex rail profile. We also offer a specific solution for each rail traffic mode and supply – as the only producer worldwide – heat treated rails in ultra-lengths up to 120 m.
Numerous track tests in cooperation with diverse railways and local transport operations worldwide confirmed that heat treated rails generate a multiple extension of the period of usage. The same effect verifiably applies to rolling contact fatigue of rails: heat treated rail steels demonstrate a significantly greater resistance to crack formation.
Hence the direct costs of maintenance as well as the indirect costs ("non-availability costs") can be drastically scaled down.
350HT HSH®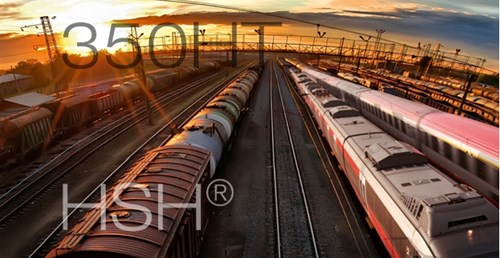 The field of application of the 350HT HSH® rail includes all areas of mixed traffic and the light rail sector. This steel grade is well suited both for use with light axle loads and medium speeds (metro, rapid transit systems), medium axle loads (mixed traffic) as well as for high-speed traffic.
The superb track performance of the rail steel grade 350HT HSH® is proven through the Innotrack project – carried out by leading European rail infrastructure operators and superstructure industries under the umbrella of UIC and UNIFE. Here in comparison to the as-rolled R260 standard grade the following improvements have been confirmed:
Threefold higher resistance to wear and formation of corrugation
Threefold higher resistance to rolling contact fatigue (RCF) due to later crack initiation and slower crack propagation
The benefits resulting from this are:
Halving rail maintenance costs
Tripling the operational rail service life time
50% reduction of the life-cycle costs (LCC)
This led to the recommendation to implement R350HT rail steel grade in curves with radii of up to 5.000 m.
400 UHC® HSH® Mixed Traffic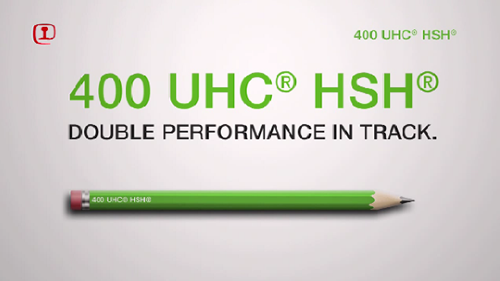 The hyper-eutectoid heat treated rail grade 400 UHC® HSH® has already perfectly proven its worth around the globe under extreme conditions. Its excellent suitability for heavy loaded mixed tracks has also been confirmed in the EU project "Innotrack" (www.innotrack.eu).
Unlike ordinary heat treated rail steel grades, 400 UHC® HSH® features an increased carbon content, which also accounts for the brand name UHC® ("Ultra-High-Carbon"). The micro-structure remains 100% perlitic and is produced on the basis of an ecologically aware low-alloy concept which also enables proper weldability. The result is a resistance to wear, corrugation and rolling contact fatigue (RCF) unmatched up to now in European mixed traffic applications.
TSI certification including high-speed traffic is already obtained. Also, delivery can take place Europe-wide in weld-free lengths up to 120m.
The improvements achievable when compared with the heat treated grade R350HT are:
Twofold higher resistance to wear and formation of corrugation
Twofold higher resistance to rolling contact fatigue (RCF) due to later crack initiation and slower crack propagation
The benefits resulting from this compared to R350HT are:
Halving rail maintenance costs
Doubling the operational rail service life time
Further and significantly reduced life-cycle costs (LCC)
Win with a proven track record, immediate supply availability and superior life-cycle economy – 400 UHC® HSH® Mixed Traffic.
400 UHC® HSH® Heavy Haul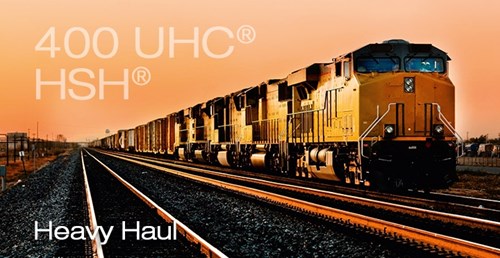 The high-strength 400 UHC® HSH® rail grade has been very successfully used for years in tracks with extreme loads all over the world (especially in heavy haul transport with axle loads over 30 tons) and has become the standard grade both for curves and for straight track.
Long-term worldwide operational experiences of heavy haul railways as well as joint track tests with customers and also in test centres confirm the excellent characteristics of this rail grade.
The operational performance of this rail grade is characterized by:
Highest resistance to wear of all pearlitic rail steels
Maximum resistance to formation of corrugation
Highest resistance to rolling contact fatigue
The benefits resulting from this are:
Remarkable reduction of rail maintenance costs due to excellent track performance
Significant multiplication of the operational rail service life time compared to other rail grades
Lowest life-cycle costs in heavy loaded tracks
Heat treated grooved rails
The premium trio of choice: HSH® GM-CL, HSH® GM and HSH® G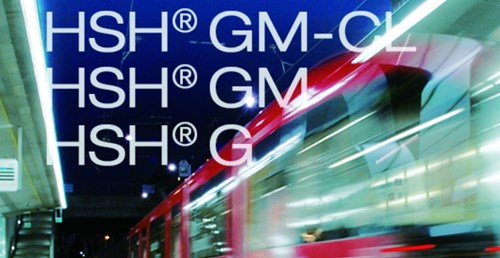 The application area of HSH® grooved rails is primarily in curves of tramway tracks, stations and steep inclines, in which abrasive wear is the predominant damage pattern.
By HSH® heat treatment of grooved rails, a fine-pearlitic microstructure with maximum wear resistance is generated, without any need for changing the chemical composition. Depending on the maintenance strategy of the tramway operator, there is a choice between the grades HSH® GM and HSH® GM-CL that permit deposit welding in track, or the grade HSH® G, which follows the so called "put-in-and-forget" strategy, without re-profiling by deposit welding.
Compared to as-rolled or Vanadium micro-alloyed grooved rails, the operator gains the following advantages:
Longer total service life time of all HSH® grooved rails
HSH® GM and HSH® GM-CL:
A global innovation: the new grooved rail HSH® GM-CL
Deposit welding as simple as with rail grade R200
Wear resistance as high as with rail grade R290GHT (HSH® GM)
Based on the standardised rail grade R290GHT (HSH® GM), which is suitable for deposit welding, voestalpine Schienen has now successfully achieved a further optimisation. The new grooved rail HSH® GM-CL (= Carbon Low) with its guaranteed C-content of maximum 0.50 % offers ideal metallurgical conditions for deposit welding in track. The specific adaptation of the heat treatment process exactly to this alloying concept results in a hardness of about 300 BHN in the running and the guiding head.
Logistics
Fast ways to the customer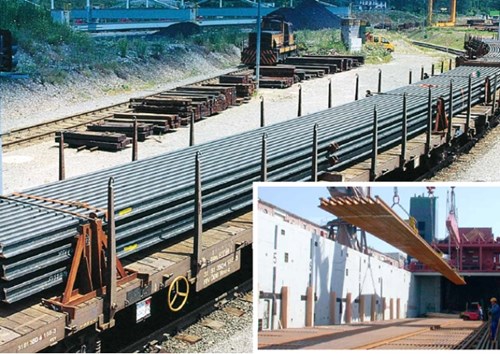 Our logistics department guarantees smooth rail delivery to its destination by optimization of the entire logistics chain. Our specialties are just-in-time deliveries of 120 m long rails to any construction site in Europe as well as long rail deliveries (60 m) overseas.
Rail welding
Simple and accurate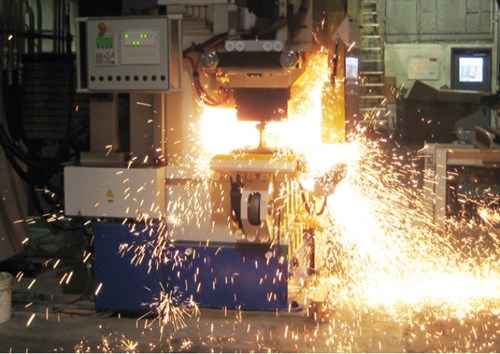 New rail steels have to be, besides excellent track performance, easily and in-track weldable.
voestalpine Schienen GmbH involves welding technology right from the start in the development of new rail steels. This ensures approved and save welding technology at the product rollout.
The voestalpine Schienen welding services go far beyond the necessary and focus directly on the customers' needs and wishes on-site, the programing of flash-butt welding machines for example.
Competence Center Welding
The new driving force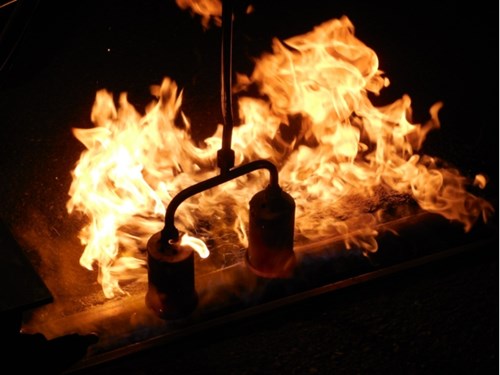 To serve our customers even better than we have done in the past, we go one step further and invest in a Competence Center Welding (CCW).
The CCW is equipped with R&D welding capacity for all welding processes (flash-butt, stick, filler-wire, aluminothermic, shielded arc). Thus the future development of welding procedures for new and existing products can be co-steered by voestalpine. For the development and homologation of aluminothermic welding solutions we intensify the cooperation with our reliable partners.
Our existing, accredited laboratory for testing and homologation of welding procedures and weld defect analysis will be equipped with the appropriate testing devices and capacities.
Cooperations with welding companies, universities and independent experts are supervised in the CCW as well as the own welding development. Customer presentations and workshops, welding demonstrations and welder trainings complete the CCW portfolio.
Pre-bending rails
We bend clothoids"
T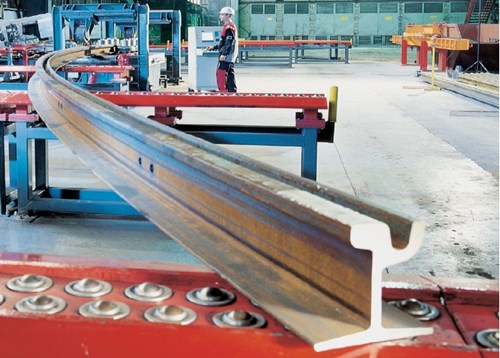 o ensure the most efficient progress of construction works, all customer requirements are considered in advance, when the shop drawing is established. The version with satellite pictures is a novelty though already standard at voestalpine.
After the plausibility check all data are processed and the rails bent within admissible tolerances by means of a fully automatic high-performance machine. For example, "clothoids" are treated as such and are not bent in three-center curves as it is often done.
Measuring protocols are issued according to our 2-step measuring system (depth gauge and bowstring measurements). Then rails are ready for delivery, if required also "just-in-time" to the construction site.