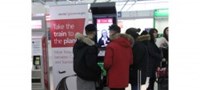 Abellio, together with Cubic Transportation Systems (CTS) have started a trial with the UK's first 'video ticket office' NextAgent™ at Stansted Airport. NextAgent™ is an innovative solution to improve ticket purchasing options for rail passengers.
The NextAgent™, developed by CTS, will provide passengers with the benefit of a walk-up ticket office that will connect passengers via a live video-link to an Abellio Greater Anglia ticketing expert. The system is currently being trialled at Stansted Airport to improve customer experience for rail users. NextAgent™ can use the inbuilt camera for document validation if needed and share information with passengers to help them make their journey. A wide range of UK destinations and train services is also available.
While the NextAgent™ at Stansted Airport currently only sells magnetic tickets, the unit is capable of delivering all the functionality of a staffed ticket office, including vending a comprehensive range of media such as smart cards, magnetic tickets, paper barcodes, e-ticketing and mobile ticketing.
Jeremy Whitaker, Head of Commercial Development at Abellio said, "Abellio aspires to be at the leading edge of an innovative customer service that constantly improves to deliver a door to door service and provides passengers with what they want, when they want it, and to a high quality. We are pleased that NextAgent™ offers our customers another step on this door to door journey through this exciting innovation which will help people arriving at Stansted Airport to simplify the process when purchasing train tickets for their onward journey, with the reassurance of a member of staff on hand via the video link. We are delighted that customer feedback has been very positive. "
Roger Crow, Executive Vice President and Managing Director, CTS Europe, commented: "Abellio's introduction of NextAgent™ represents a unique way to provide high-quality customer service and is another example of how we are bringing our NextAgent™ vision to life. The attraction of speaking to a person when buying a ticket is well-known in the industry, but we also appreciate the economic pressures our customers face. Cubic's response is a solution combining innovative technology, industry understanding and, most importantly, an exceptional customer experience."
About Abellio
175 years of experience has embedded in Abellio a social duty to passengers which extends beyond the journey on one of our trains, trams or buses. The passenger is at the heart of everything we do. The delivery of safe, reliable and comfortable services is the starting point for every transport provider, but that is not enough for Abellio. Our services must play an integrated role in the socio-economic development of the societies we serve.