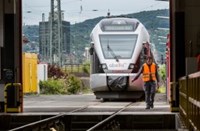 The public transport company, Nahverkehrsgesellschaft Sachsen-Anhalt (NASA), has announced on behalf of the State of Saxony-Anhalt, the Zweckverband Großraum Braunschweig and the Free State of Thuringia, that Abellio Rail Mitteldeutschland is to be awarded the contract to operate Lots A and B of the Saxony-Anhalt diesel network (DISA). Subject to the statutory ten-day appeal period, the contract for the tendered lots will become legally binding on 25 December 2015.
From December 2018 Abellio will operate a total of 12 routes in Saxony-Anhalt. For the first time, Abellio will also travel to Berlin with line RX 11, when Abellio trains travelling from Magdeburg make a stop, via Potsdam, at the capital's 'Ostbahnhof' railway station. Other routes include Halle (Saale) to Goslar (via Aschersleben and Halberstadt), from Wolfsburg to Magdeburg, or from Stendal to Wolfsburg. One of Germany's leading rail companies will then cover an annual total of 8.6 million train kilometres with 50 Coradia Lint trains.
Stephan Krenz, Chairman of the Abellio GmbH Executive Board: "With the Saxony-Anhalt diesel network, Abellio is permanently underlining its ambition to become the leading provider of passenger rail transport in Central Germany. We are facing up to our rail competitors and, this year, have already won three tenders. This prospective contract from NASA is a further milestone for Abellio as a service-oriented rail service provider."
Dirk Ballerstein, Managing Director of Abellio Rail Central Germany, adds: "For us in central Germany, the expansion of our portfolio represents a further milestone which we look forward to undertaking with absolute dedication."
About Abellio
175 years of experience has embedded in Abellio a social duty to passengers which extends beyond the journey on one of our trains, trams or buses. The passenger is at the heart of everything we do. The delivery of safe, reliable and comfortable services is the starting point for every transport provider, but that is not enough for Abellio. Our services must play an integrated role in the socio-economic development of the societies we serve.