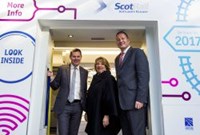 Since 10 February, customers of Abellio ScotRail can step on board the next generation of electric trains for Scotland. Derek Mackay, Transport Minister, unveiled a life-size model of the interior of ScotRail's flagship new fleet at Edinburgh Waverley station. It will be open to the public until Friday 4 March.
The model showcases a standard and first class saloon, with some of the actual seating and tables that will be used in the trains when they are introduces intro passenger service from autumn 2017. Customer service staff will be on hand to answer questions.
The total of 70 new trains, currently under construction by Hitachi, are the most significant enhancement in a £475m train improvement programme. The project, which will see 90% of Scotland's fleet either new or refurbished, will offer throusands of extra seats, faster journeys, improved accessibility, at-seat power points an better wifi.
Derek Mackay said: "These brand new 100mph electric trains are being bustom made for Scotland's railways. They will be larger, faster and greener and will allow passengers to trave in greater comfort than ever before when they are rolled out across central belt routes later next year.
"They will enable ScotRail to deliver its franchise contractual commitments to increase capacity on the Edinburg-Glasgow route, by offering 45% extra seats on Edinburgh – Glasgow peak services from late 2017.
"This is another part of the Scottish Government's £5 billion investment in the rail network, which includes £475 million to enhance rolling stock, ensuring that rail capacity and the on train environment keeps pace with the increasing public demand for services.
"I would encourage anyone close to Edinburgh Waverley station to come and see what their new trains will be like."
Dominic Booth, managing director of Abellio UK, said: "We commenced the official procurement process for this new fleet of trains in August 2013 which was 19 months before we took over the ScotRail franchise. The arrival of the Hitachi Class 385 is a major milestone and a testimony to the hard work that has gone into this by all parties.
"This train will be truly transformational for customers, and proudly positions Scotland's transport at the apex of transport initiatives in the UK. I am particularly pleased that Transport Scotland and my procurement team in Abellio have negotiated such a great deal with Hitachi which is underpinned by some of the finest engineering in the world. Our innovative finance package allows the Scottish Government and Transport Scotland to take ownership of the trains after 25 years and will have long term benefits for Scotland.
"This new fleet will be a major contributor to sustainable economic growth and ensure that the full benefits of EGIP are realised for passengers."
Phil Verster, managing director of the ScotRail Alliance said:
"This model gives our customers a glimpse into a future that, by next autumn, will be a reality. These faster, longer, greener trains will mean more seats, and shorter journey times with less impact on our environment. When we have them in service, they will transform travel between our two biggest cities.
"This is all part of our largest ever train improvement programme. Over the next few years we will be spending £475m on these new trains, refurbishing most of our existing fleet and introducing great benefits like enhanced wifi and at-seat power sockets.
"In just a few weeks our engineers will start work at Queen Street station that will allow us to run these amazing new trains. We are doing everything we can to give people the information they need to keep moving while we complete this work. I know that when people see this model of their new train, they will understand the huge benefits that are heading their way."
Karen Boswell, managing director of Hitachi Rail Europe said:
"It's fantastic that fare-paying customers are able to experience at first-hand the on-board improvements that Hitachi's new trains for Scotland will deliver to their daily commuting lives.
"Hitachi is proud to have such an important role in a long-term partnership with ScotRail and Transport Scotland in boosting rail services in Scotland, and we are equally delighted that the Class 385s will be made at our new manufacturing facility in Newton Aycliffe, boosting jobs in the North East of England and the wider UK supply chain."
About Abellio
175 years of experience has embedded in Abellio a social duty to passengers which extends beyond the journey on one of our trains, trams or buses. The passenger is at the heart of everything we do. The delivery of safe, reliable and comfortable services is the starting point for every transport provider, but that is not enough for Abellio. Our services must play an integrated role in the socio-economic development of the societies we serve.