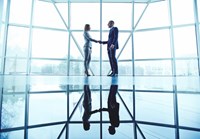 Abellio UK ("Abellio") has signed an agreement to sell 40% of the Greater Anglia rail franchise to Mitsui & Co., Ltd. ("Mitsui"), pending final regulatory approvals. This fulfils Abellio's long-standing objective of finding a suitable partner to run Greater Anglia in a 60:40 joint venture.
Abellio and Mitsui have a proven track record of working together, having first entered into a joint venture to bid for the West Midlands rail franchise in 2016, along with East Japan Railway Company. Following this process, Abellio felt that Mitsui would be the best partner to help it deliver its ambitious programme to transform the Greater Anglia franchise.
Mitsui is a global conglomerate with business interests in numerous different sectors, including infrastructure, integrated transportation systems, energy, and IT and communications. The deal is notable for marking the first time a Japanese company has become a shareholder of a British train operating company.
Abellio re-won the Greater Anglia franchise in August 2016, having first operated it from February 2012. It will continue to have a majority stake in the business and be in overall control. The franchise agreement will see £1.4bn in investment over the next nine years, with the introduction of a completely new fleet and a commitment to cut average journey times by 10%.
Dominic Booth, Managing Director of Abellio said:
"We are delighted to have reached agreement with Mitsui, fulfilling our long standing objective of running the franchise as a 60:40 joint venture. With the introduction of Mitsui's knowledge and experience, we look forward to delivering significant improvements for Greater Anglia's customers, including through the introduction of a brand new fleet."
About Abellio
175 years of experience has embedded in Abellio a social duty to passengers which extends beyond the journey on one of our trains, trams or buses. The passenger is at the heart of everything we do. The delivery of safe, reliable and comfortable services is the starting point for every transport provider, but that is not enough for Abellio. Our services must play an integrated role in the socio-economic development of the societies we serve.